M25 tour is company's 'most successful ever'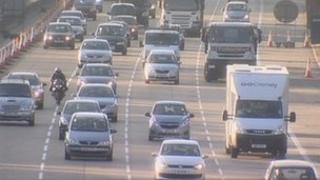 A sightseeing trip round the M25 planned by a Brighton coach company has proved so popular an extra tour date has been scheduled.
Brighton and Hove Bus and Coach Company claims the motorway tour looks like being one of its most successful ever.
"It is not a a boring road at all - you see all sorts of fascinating things," said spokesman Roger French.
But Andy Noble, spokesman for Caterham Cars, just off junction six, said: "To go on it for pleasure is beyond me."
The bus company, which also runs day trips to tourist attractions such as Blenheim Palace, Beaulieu National Motor Museum, Bath and Bluewater shopping centre, included the M25 tour in its 2012 brochure earlier this month.
The planned date was 11 October but another date, 22 March, has now been added.
Mr French said the motorway was "absolutely fascinating".
"It goes through six home counties and you get a whole taste of the variety of London.
"In Essex you come to Epping Forest and coming round by Heathrow you see the planes coming in to land."
The 117-mile (188km) motorway, which opened in October 1986, has been described as "the UK's biggest car park".
'Welcome to it'
Mr Noble said it was "an absolute pain".
"The biggest problem for us is that your journey from Caterham to Heathrow, for example, could take 45 minutes or it could take three hours.
"So if you leave three hours to get there you can be sure it will be clear and you will have two hours at the other end with nothing to do.
"They are welcome to it. For a company that makes sports cars, we will stick to the B roads and admire the countryside from the relative quiet of the back roads."
Travel writer Simon Calder said Brighton and Hove was not the only bus company considering putting on tours of the M25.
"I think we have got a bit of an arms race developing here," he said.
"I fear before long we are going to be nose to tail with coach trips on the M25.
"I do not buy Roger French's lyrical description of the beautiful English countryside seen from the M25.
"But it is a fantastic route to use to get to all kinds of marvellous places."