Barratts Priceless shoes: Closure of 18 stores announced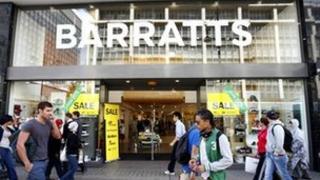 Eighteen Barratts Priceless shoe stores are to close on Friday, making 127 people redundant, the administrators behind the firm have announced.
The Bradford-based company went into administration earlier this month after a downturn in trading.
Administrators, Deloitte, said it was regrettable that it was unable to continue to keep all of the stores.
Shops in Blackpool, Durham, Cardiff, Darlington, Bexhill On Sea and Torquay are among those to close.
Sixty staff at the firm's head office, which is based in Bradford, have been made redundant since it went into administration on 8 December.
'Unable to continue'
In England, stores will also close in Crossgates, Kettering, Carlow, Weymouth, Oldham, Croydon, Kings Lynn and Erdington.
One Scotland-based store in Kilmarnock will close, as well as two in Northern Ireland - Strabane and Connswater - and Donaghmede in the Republic of Ireland.
Daniel Butters, joint administrator and partner in Deloitte's restructuring services practice, said: "Regrettably, we have been unable to continue to trade all of the Barratts Priceless Group stores and have had to make 127 employees across 18 stores redundant.
"Employees in this position will be paid up until the last day of employment.
"We have provided the employees with full briefings to help them understand their position and the further support available through the Redundancy Payment Office."
The owner of Barratts previously went into administration in 2009 resulting in 220 of its 380 stores closing.
The administrator said it would continue to trade the remaining 173 stores and 374 concessions based in department stores while seeking to find a buyer.