Suffolk cruise firm Fred Olsen in sickness legal action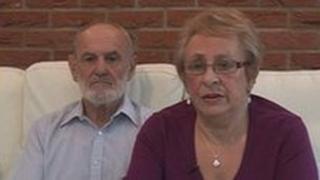 A cruise company based in Suffolk faces legal action from more than 100 passengers who claim they were taken ill on one of its ships.
In a writ issued at the High Court, 134 claimants allege they picked up the sickness bug norovirus during nine outbreaks on Fred Olsen's 880-passenger liner Boudicca between 2009 and 2010.
One claim alleges a male passenger died as a result of contracting the illness.
The company said it "utterly rejected" all allegations.
The writ has been issued by Irwin Mitchell solicitors, who in January 2010 told the BBC they were acting on behalf of more than 50 passengers.
Among the claimants are Michael and Marie Bridge, who live near Norwich, who told the BBC they had both become ill on a Fred Olsen cruise of the Mediterranean.
'Entirely refuted'
A Fred Olsen spokesman said: "Fred Olsen Cruise Lines rejects utterly any allegations made in the claim by Irwin Mitchell solicitors - as it has all along - regarding the standards of cleanliness and hygiene aboard its ships, which are of the highest quality across its fleet.
"These very serious allegations are baseless and are entirely refuted by Fred Olsen Cruise Lines."
It said the health, safety and well-being of its guests and crew were its priority and that it believed its system of preventing the spread of illness was among the best in the industry.
The writ accuses Fred Olsen of failing to warn passengers of the outbreak, allowing them to stay on board knowing they were at risk and not offering an alternative ship or holiday.
It also claims the company failed to provide specialist training to cleaning staff, failed to clean all infected rooms efficiently and did not properly deep-clean the ship between voyages.
It is also alleges it did not isolate infected guests and acted with a view to commercial gain rather than safeguarding the safety and well being of the passengers.
The writ also criticises the food on board, claiming it was unhygienic and either undercooked or reheated and led to passengers becoming ill.
No court date has been set.