Shooting Star Chase finds children want Christmas snow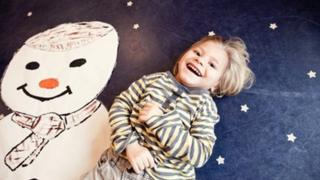 Children think seeing snow on Christmas Day and being at home with loved ones would make this year's celebrations the best, a hospice survey has found.
Shooting Star Chase, a hospice charity helping families in Sussex, Surrey and west London, commissioned the study.
It found just under a third of children wanted a white Christmas and 48% wanted to be at home with friends and family.
The charity said only 26% wanted the latest electronic gadget and just 19% wanted to rub shoulders with the stars.
'No sprouts'
And in a breakdown of figures for groups who wanted to be at home with families and friends, boys aged between 12 and 15 came out as the largest group, with 64% voting to be with their loved ones at home.
One in eight only wanted to eat their favourite food and have no Brussels sprouts.
Spokeswoman Juliette Gillard said: "The survey reflects young people's thoughts today and it is wonderful to see that the simple pleasures in life have come out at the top.
"It is also very heartening to see that today's younger generation realise the importance of things that money can't buy, like just being at home for Christmas."
Shooting Star Chase runs two children's hospices in Guildford and Hampton and also a Hospice at Home service which helps very sick children to stay at home longer or leave hospital sooner.
The charity said it ran the survey as part of a fundraising appeal to extend its Hospice at Home scheme, which currently helps more than 350 families, but cannot afford to offer the full range of care to every family needing help.
The fundraising target for extending Hospice at Home is £500,000 - on top of the £8.5m the charity must raise each year to run its existing services.
TNS Kids Omnibus carried out the Christmas Day research for the charity and surveyed 263 children across the UK.