London 2012: Sports England awards Olympic legacy funds for clubs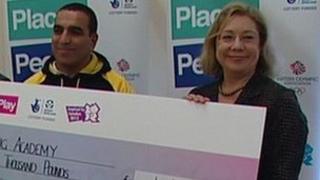 A boxing club in Oxford has been boosted after it was given £46,000 to buy its club house.
The cash was part of a £2m payout to 43 community sports projects in the BBC South region as part of the Olympic legacy scheme.
The Oxford Boxing Academy is now set to buy the freehold to the building near the John Radcliffe Hospital.
Head coach Faz Keyani said: "It's absolutely fantastic, I'm so excited."
He added: "Sport England has offered us £46,000 to buy the freehold of this building. Obviously it is worth a lot more but the county council has agreed to sell it to us at a reduced price if we provide youth provision, which is what we are doing."
The biggest beneficiary in the south was the Oasis Academy Lord's Hill school in Southampton which was given £150,000 towards an all-weather pitch.
The community manager at the school, Wale Olufunwa, said: "We are delighted because it means we'll be able to get more kids playing football.
"Coaching for all ages from four, right up to the under 18s, will take place on this community pitch."
Jennie Price, from Sport England, said the funds would ensure clubs received improvements to their premises because of the Olympic games coming to London.
Elsewhere in the south, a range of clubs received money to pay for various improvements and buildings.
Shillingstone Parish Council in Dorset received £50,000 for a pavilion while Reading and District Indoor Bowls Club in Berkshire got £50,000 to replace a flat roof.