Southern Water installs 100,000 meters across southern England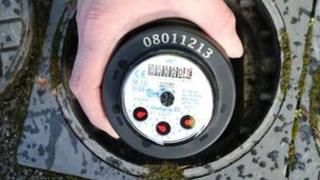 More than 100,000 new "intelligent" water meters have been installed across southern England with work set to gather pace in the new year.
Southern Water is fitting 500,000 meters for households in Hampshire, Sussex and Kent by 2015.
The devices include "leak alarms" which the company hopes will eventually help to save five million litres of water a day.
The technology will allow engineers to pinpoint leaks from customers' pipes.
The metering programme started in late 2010 in Horsham, West Sussex, Medway in Kent and Southampton in Hampshire.
'Most advanced'
Work continues in Southampton, with installation teams going from Sussex to Crawley, having also visited Littlehampton and the surrounding area over the summer.
In Kent, households in the Gillingham area have had their meters put in recently, with work under way around Sittingbourne, and the Isle of Sheppey to follow in the coming months.
Jon Crooke, from Southern Water, said: "The meters we are installing are the most advanced in the water industry.
"We estimate that fitting meters with leak alarms across our area will save enough water to meet the needs of over 37,000 people every day.
"The meters we have installed so far have already picked up in excess of 450 suspected leaks."