Riot claimants in England hit by legal woes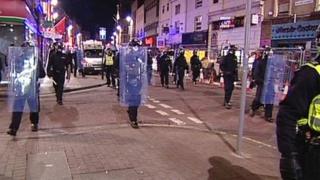 Dozens of people whose businesses and homes were damaged by rioters in August are facing legal challenges or delays to their claims.
As violence flared in towns and cities across England, on one night in Leicester shops were looted and vehicles, including two Age UK ambulances, torched.
Jay Popat, owner of Boland newsagents on Carts Lane, had shut up shop early to avoid trouble but returned later to find his windows smashed.
Mr Popat is among the people who now fear they will be "out of pocket" after two police authorities refused to pay out under the Riot (Damages) Act of 1886, saying trouble in their areas did not meet the legal definition of a "riot".
The 1886 act allows those whose property is damaged or stolen "by any persons riotously and tumultuously assembled together", and insurers, to seek compensation from the relevant police authority.
However, the Victorian act works alongside the Public Order Act of 1986, which defines a riot as 12 or more people present together using or threatening violence for a common purpose.
'Criminal damage'
Leicestershire and Nottinghamshire Police Authorities say their cities saw incidents of disorder, but not rioting.
Leicestershire Police Authority chairman Barrie Roper said: "We have consistently said that we didn't feel the disturbances in August could be classified as 'rioting' and while undoubtedly criminal damage has taken place we have no evidence that this is the result of a riot.
"The criteria, as stipulated within the act, has not been met."
Mr Popat said he had applied through his insurance but was told his policy did not cover riots, so the act was his last remaining hope.
"I would have classed it as a riot, to be honest," he said.
"At the moment small businesses have been hit and I know a lot of us who had our premises damaged.
"I am out of pocket by about £1,000 and at the moment I just can't afford that."
Mr Popat has already been hit by the recession and cannot afford to replace a member of staff who had left.
Graeme Trudgill, of the British Insurance Brokers' Association (Biba), said most general policies covered riots but the act could particularly affect uninsured people.
He said the Riot Act worked on the premise that police officers were expected to keep the peace and if a riot happened this had not been achieved.
"In places such as Croydon it was clear to see how many people took part and the extent of the damage but in other areas it may be difficult to prove 12 or more people were involved.
"People may have to find TV images and CCTV and other evidence," he said.
Those who are refused payment could legally challenge the authorities' interpretation of the act, Mr Trudgill added.
The act generally does not cover interruptions to trading or vehicle damage and many claims have been thrown out on this basis.
However, hundreds of other claimants are still waiting.
The Riots Communities and Victims Panel, which was set up to examine why the riots took part, said its research up to the end of last month had not found anyone compensated under the act.
Panel chairman Darra Singh, said: "On our visits to 17 riot-affected areas, the panel did not hear of anyone who had received a payment under the Riots Damages Act."
'Livelihoods gone'
In Birmingham, Ravi Singh, general secretary of Handsworth Traders' Association, said some riot-hit firms, such as a tool shop which had all its equipment stolen, had been waiting at least nine weeks to hear from the police authority.
"There's a lot of paperwork and the claims are being dealt with slowly," he said.
"And for some people their livelihoods were gone overnight and they had to move to replace things as quickly as possible."
West Midlands Police Authority said it had received 330 claims under the act, totalling about £5m. The authority has called for a change to the law, saying costs should be borne by insurance firms.
However, a spokeswoman said it aimed to process all claims by the end of January and, in line with Home Office advice, would deal with those who were uninsured first.
Greater Manchester Police Authority (GMPA) has received 381 claims, totalling about £5.7m.
It said claims were being progressed "swiftly and robustly" and it had dealt with nearly 250, including 173 rejected because they were "not eligible under the legislation".
The Association of Police Authorities warned in August that funds held by English police authorities could be "decimated" by claims under the Riot Act.
Four months later, its concerns remain and a spokesman said claims totalling £300m were understood to have been submitted.
However, association chairman Mark Burns-Williamson has met the policing minister and the Association of British Insurers to agree ways of speeding up outstanding settlements.
"Despite the goodwill and best efforts of all partners, the resolution of claims on the basis of an outdated act has been complex," he said, adding that multiple agencies were involved and most claims required further information to be submitted.
The Metropolitan Police Authority said at least 70% of the 3,500 claims it had received were "incomplete" and needed additional information.
The Home Office, which is reviewing the Riot Act, said it was up to individual police authorities to deal with the claims but it would ensure front-line services were not affected and authorities could apply for funding in "exceptional circumstances".