Christmas flashmob for Birmingham Children's Hospital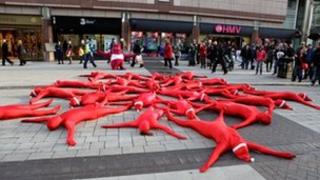 Footage of a festive flashmob in Birmingham attracted more than 5,000 views in the first 24 hours after it was posted online.
The video, starring dancers from EQHO, a group from the University of Warwick, was filmed to raise money for Birmingham Children's Hospital.
The dancers, wearing all-over lycra "morph" suits and Santa hats, performed a routine to a selection of songs.
The film has already raised more than £2,000 for the hospital.
The video, which features BBC broadcaster Richard Bacon, shows the dancers interrupting a fake news report before forming a giant snowflake by lying on the ground.
Producer Catherine Allen, from Digbeth-based Ember Television, the company behind the project, said: "The film is proving a big success. As well as raising money for a very worthwhile cause, we also wanted to give people a flavour of the creative talent we have in the West Midlands and, most importantly, to put a smile on people's faces.
Phenomenal reaction
"We've managed to achieve all three."
Dorine Mwesiga, who choreographed the dance, said: "The opportunity of street dancing in order to raise money for charity really appealed to us.
"The reaction of passers-by to our strange festive characters was phenomenal, they even started joining in."
The video has attracted commercial sponsorship and been viewed 17,000 times in its first week on YouTube.
Jim Holdsworth, 36, from Birmingham, said the dancing made his Christmas shopping more exciting.
"It was an interesting moment when these people dressed in lycra started dancing," he said.
"I was a bit taken aback to be honest, but then they started dancing and it was quite fun to watch, certainly a distraction from a dull day shopping."
Robin Powell, Ember Television's executive director, said viral videos - content which people pass on to friends via email, Facebook updates or on message boards - were a good way of raising money and promoting a cause.
He said: "Corporate social responsibility is a big priority for companies now.
"As well as raising money for good causes, projects like this can be a very powerful promotional tool - a way of engaging with people much more effectively than via conventional PR or marketing.
"We've even made a special version of the flashmob viral for one of the sponsors which includes a recorded Christmas message for their customers.
"It's much more original than sending out corporate Christmas cards.
"Halifax Bank's Christmas choir videos in aid of Save the Children have also been a big hit. Films like these are going to be extremely popular."