Air ambulance takes on children's service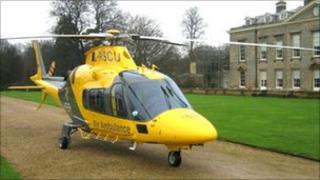 The Warwickshire and Northamptonshire Air Ambulance has taken over the children's air ambulance service.
The air ambulance transfers seriously ill children between hospitals for treatment and specialist care.
Alex Toft, director of operations and clinical services, said taking on the extra service would not be a financial burden but required skills.
"When we're moving these seriously ill children they have to be relatively stable," he said.
"We take them to specialist beds for treatment for such procedures as heart surgery.
"It's often moving them from one hospital to another. Our job is more about transfer of patients rather than delivering emergency medical care.
"The children's ambulance service is not about call outs or intensive care so it will not be the same cost but it is still expensive as we are expected to range the country."