Ticket inspector stabbed on C2C train from Southend to London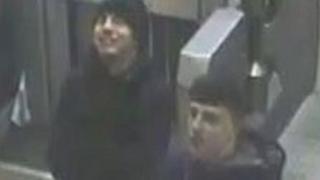 A ticket inspector has been stabbed on a C2C train travelling from Essex into London, prompting an investigation by British Transport Police (BTP).
The attack at East Tilbury happened on the 20:20 Southend Central to London Fenchurch Street service on Friday.
BTP said the inspector had asked two men without tickets, aged about 18, to leave the train. They got off, but one returned and stabbed him in the back.
The inspector, 42, received three stitches to the wound.
He was expected to be able to leave hospital later on Saturday.
Officers are now looking through CCTV images and are appealing to any passengers on the train who witnessed anything to contact them.
One of the suspects wore a black hooded top and the second a grey flat cap and grey top.
The police force said there had been four ticket inspectors on the service at the time of the stabbing and that they worked in pairs.
Bob Crow, general secretary of the Rail Maritime and Transport union, representing many railway workers, said anyone with any information should contact police urgently.
"Once again it shows the dangers that transport staff face every day and particularly over the Christmas and new year period.
"The perpetrators of this vicious and cowardly assault must be caught and the authorities need to show that those who attack public service workers will be severely punished," he said.
'Appalling and disgraceful'
A BTP spokesman said: "The member of staff had asked two men to leave the train at East Tilbury as they didn't have tickets to travel.
"An altercation took place, resulting in the member of staff being stabbed in the back by one of the men, who both immediately fled the scene.
Ch Supt Paul Brogden said: "This was an appalling and disgraceful attack on a man who was simply doing his job and who had quite rightly asked the men to leave the train.
"I have a team of detectives currently making inquiries into this incident, including speaking with witnesses and looking at CCTV.
"If you can tell us who was responsible for this attack, or have any information that could assist our investigation, my team want to hear from you."
Julian Drury, managing director of C2C, said: "We deplore this incident, which is being fully investigated by the British Transport Police."
"Anyone with information should contact British Transport Police."