Kent County Council needs to make £97m budget savings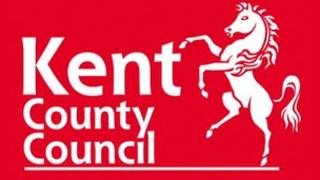 Kent County Council has an annual budget of more than £2.2bn.
It sounds like a huge amount of money but out of that it has to provide care for the growing elderly population, as well as look after children in care and foster homes, and provide education services, waste management etc.
The list goes on...
Kent, like all councils, is facing cuts in its government funding of 7% each year over four years.
Last financial year the authority made £65m worth of savings.
Achieving savings
Today the council has announced the savings for 2012-2013 will be even greater at £97m.
So how will that be achieved?
The council says the only way it can making savings of that amount is not by so-called 'salami slicing' - i.e. taking off a bit here and a bit there - but by re-structuring the way it does things.
This includes both the provision of services and internally - by streamlining its finance departments.
By doing that it says it has made efficiency savings of £38m.
A lot of that has been done by reducing the number of staff by approximately 640 - by either not filling vacancies or through redundancies.
And there is more pain to come. Over the next three years the council will lose 1,500 staff in total and estimate that will save around £45m.
It will also change the way it does business.
Spending on care for the elderly is one of the biggest costs and accounts for £450m a year.
The council aims to identify elderly people with needs sooner so problems can be tackled earlier and hopefully elderly people can remain in their own homes longer, rather than in hospital.
Kent County Council says it's determined to be able to provide care for people with moderate needs and points out that many other local authorities only provide for those classed as having severe needs.
It's an area where the council wants to reduce costs but with an ageing population it won't be easy.
Improving child protection
But it's providing care for people at the other end of the age spectrum which has proved most controversial for Kent County Council.
After an Ofsted report last year found the council's childcare protection to be inadequate it has directed resources at the service, spending £24m to bring in extra social workers and trying to improve the care.
Despite the injection of funding they have struggled to deal with the backlog and the number of cared for children in Kent is now more than 2,800 - that's up 40% over the past two and a half years.
It costs a huge amount to look after children in care - from £35,000 a year up to £70,000 for those with physical or mental difficulties.
To try to tackle the ongoing problem they are now investing a further £22m in children's services.
But the council acknowledges that dealing with problems in children's services is "still a massive issue for them".
Difficult times
The council will only be able to cut the bill by reducing the number of children in care and it aims to get the figure down to 1,000 by speeding up fostering and adoption procedures.
Given the figures have remained stubbornly high - and are increasing - that looks like a tall order.
Kent County Council's message offers little festive cheer.
It says these are difficult times and next year won't see the end of the pain.
But the council's leader Paul Carter says he believes they have been able to produce a budget which is fair and which will limit the impact on frontline services.