Ricky Gervais urges Eric Pickles to block beagle farm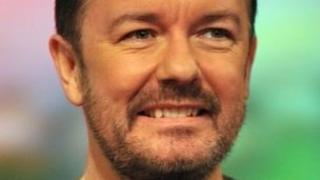 Comedian Ricky Gervais has spoken out against proposals to build a dog breeding farm in East Yorkshire, which would supply beagles for scientific research.
The star of The Office and Extras is supporting a campaign by the anti-vivisection group, BUAV, which is trying to prevent the expansion of a centre in the village of Grimston.
Plans to extend the site owned by B&K Universal were originally rejected by East Riding of Yorkshire Council in June.
The company has appealed against the planning verdict, and the matter now rests with the Communities Secretary Eric Pickles, with a decision due in the next few weeks.
Online petition
In a statement released by the BUAV, Ricky Gervais said: "I am disgusted to learn of these plans to breed beagles for experiments. It is unacceptable that these gentle and trusting dogs should be treated as commodities.
"If B&K's plans go ahead, thousands of dogs will be born to spend the rest of their short lives in a laboratory cage, where they will suffer in cruel experiments."
An online petition against the proposals has attracted more than 28,000 signatures.
The BUAV chief executive, Michelle Thew, said: "We are delighted to receive the support of Ricky Gervais on this important issue."
She added: "There are a range of modern, humane, non-animal research techniques available to scientists which should be used instead of inflicting suffering on dogs and other animals in laboratories."
Medical research
B&K Universal has not commented directly on the latest proposals to build a dog breeding facility, but on the company's website it states:
"B&K Universal strongly believes in the promotion of environmental enrichment for the well-being of laboratory animals and will always continue to set standards of best practice in the pursuit of this objective."
The use of dogs in medical research remains controversial.
According to government figures, in 2005 more than 7,400 beagles were used in experiments - less than half of 1% of the total number of animals used in scientific procedures.