Jesse Jackson offers Keith Vaz MP advice on radicalism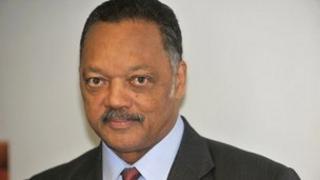 Why is it that politicians from overseas tend to be more glamorous, fascinating and attention-grabbing?
Maybe it's because of familiarity with our home-grown lot. They can be rather predictable and even drab.
Labour MP Keith Vaz has never suffered from that.
The only predictable aspect of this veteran parliamentarian is his knack of attracting stardust to his Leicester East constituency.
The visits of Bollywood star Shilpa Shetty and the World Cup-winning Indian cricket team caused a sensation.
The latest five star act to tread the Leicester East boards was the American civil rights leader, the Reverend Jesse Jackson.
At 70, this former presidential hopeful still has enormous charisma and charm.
He commands attention when entering a room; that may be his height - he's tall - and that sense of instant recognition.
There's also a hint of The West Wing about Reverend Jackson and his support team and advisers.
He was in Leicester to speak at a conference on combating violent extremism.
It had been organised by the House of Commons Home Affairs Committee, which Mr Vaz chairs.
Jesse Jackson campaigned with Dr Martin Luther King and has advised Presidents Clinton and Obama.
In Leicester, he offered his advice and experience of bringing different communities together to combat extremism, whether the threat comes from far-right fanatics or Islamic suicide bombers.
He told me the dangers of stereotyping people, whatever their religion.
"The roots of violent radicalism are linked to extreme rejection or repression, and the concentration of wealth on the one hand and poverty on the other," he said.
"Cultural stereotyping and profiling people by their race or religion is both a disgrace and morally wrong. These practices lead to radicalisation.
"If people feel locked out of the system, they fight back."
Rev Jackson also received an honorary degree from Leicester's De Montfort University for his life-long work for civil rights.
This American believes there's still so much more injustice in the world to put right.
"We need a return to more noble goals.
"Affordable health care, drinkable water, shelter and a place to live, peace with our neighbours. We need a revolution based on justice and respect," he added.
Jesse Jackson paid a compliment to Keith Vaz by coming to Leicester.
That's been returned; Keith Vaz is pressing MPs to back his campaign for the American to be awarded a Noble Peace Prize.