Leeds trolleybus scheme delayed by value for money test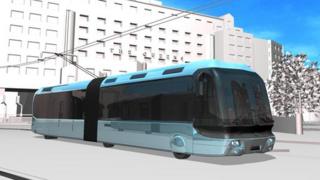 Sometimes you have to chuckle at what a government department says.
This week the Department for Transport said it needed more time to decide on whether to back a proposed public transport system for Leeds as the technology it involves needs more investigation to prove if it will be value for money.
Back in West Yorkshire there were a few wry smiles.
The 'new idea' first appeared on the streets of Leeds in June 1911.
That was when Leeds and Bradford became the first cities in Britain to run a trolleybus service powered from miles of overhead electric cables.
History's scrap yard
The last one ran in Bradford in 1972 before being consigned to the scrap yard of history.
Vehicles with diesel engines replaced them as a cheaper and more flexible alternative.
But they have not been forgotten in Yorkshire.
West Yorkshire's Metro public transport organisation wants to bring them back in Leeds.
They will have all the advantages of being quiet and emission-free but without the rattles and draughts of the ones I remember from my teens.
In fact the trolleybus is a compromise being forced on Leeds.
In the 1990s the city wanted to rebuild its tram system. That is an even older technology as it was 1901 when the first electric tramline opened in Leeds.
By 2005 £40m had been spent on initial work for the Leeds 'Supertram' system when it was scrapped by the then Labour government.
By that stage an initial estimate of half a billion pounds had doubled.
Trolley good idea
It was replaced in 2007 by a £300m trolleybus scheme.
Specially designed vehicles would run on rubber tyres rather than track with 14km of overhead cable supplying the power.
In the dying weeks of the Labour government in 2010 it was approved with a scaled down budget of £254m with the Transport Department stumping up 90% of the cost.
It was one of the first schemes to be "reviewed" as part of the incoming coalition government's austerity programme.
The bid has been bouncing between Leeds and Whitehall ever since.
The latest version was submitted in September 2011 and the government contribution has now dropped to under £200m.
Bothered and bewildered
"We understand the need to be cost effective and have built savings into the proposals," I was told by a bewildered James Lewis, the Leeds City Councillor who chairs West Yorkshire Metro.
"It is frustrating and annoying that they now want even more technical information. They have had it since September, and every month that goes by inflation and other costs add another million pounds to the estimates."
Back in Whitehall the word "trolleybus" did not even appear on the official announcement from the Department for Transport.
It says it wants more information on the Leeds New Generation Transport System by March 2012 and promises a decision by June.
Maybe they could short circuit that process by taking a trip to Sandtoft near Doncaster.
It is the home of the UK's Trolleybus Society where they run the country's largest trolley museum.