UK Coal fined over miner deaths at Daw Mill and Welbeck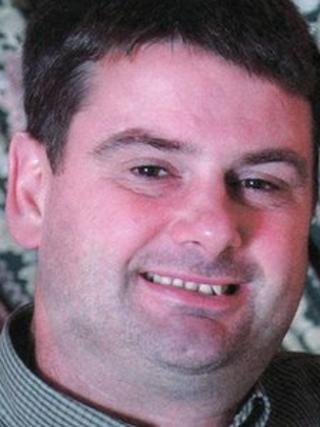 UK Coal has been ordered to pay £1.2m after four miners died following safety breaches at two of its collieries.
Anthony Garrigan, 42, Paul Hunt, 45, and Trevor Steeples, 46, died in accidents at Daw Mill colliery, near Coventry, in 2006 and 2007.
Paul Milner, 44, died after an accident at the now-closed Welbeck Colliery in Nottinghamshire, in 2007.
The firm admitted offences under health and safety laws during an earlier hearing at Sheffield Crown Court.
UK Coal was fined £112,500 in relation to each incident and ordered to pay a further £187,500 in costs in each case.
Mr Justice MacDuff told Sheffield Crown Court he would not impose a penalty so high it would cripple the struggling firm.
'Dangerous occupation'
He urged the families of the dead men to focus on the total combined financial penalty.
The Doncaster-based company, which employs about 2,700 people, reported losses of £124.6m in 2010, following losses of £129.1m in 2009 and £15.6m in 2008.
The judge said: "These were, of course, dreadful accidents. They were preventable accidents.
"However, unlike most criminal acts, there was no intention to kill or injure.
"But the law rightly demands a high duty of care by employers for the safety of their employees and other workers.
"Mining is and will remain a dangerous occupation. These accidents all occurred in the depths of the Earth."
He said the firm was "trading on the edge of viability" and added: "It would be in no-one's interest if the company ceased to trade or if it had to reduce further the scope of its operations."
Crushed by coal
Mr Steeples, from West Bridgford, Nottingham, died at Daw Mill on 19 June 2006 when he was suffocated by a methane build-up in part of the mine.
Two pit managers at Daw Mill, Terence Davison and John Alstead, were cleared of safety breaches in relation to his death by a judge at Sheffield Crown Court in June.
Mr Hunt, from Swadlincote, Derbyshire, died after he fell from an underground transporter into the path of a train at the same colliery on 6 August 2006.
The judge was told at an earlier hearing the poorly-maintained transporter had been declared unfit for passengers but miners still used it instead of a 40-minute uphill underground walk.
Mr Garrigan, from Thorne, near Doncaster, was crushed by 100 tonnes of coal and stone at Daw Mill on 17 January 2007.
The court was told he had been installing bolts into the wall of a tunnel which had a history of collapses.
Mr Milner, from Church Warsop, Nottinghamshire, died at Welbeck Colliery in Meden Vale near Mansfield when a roof fell in on 3 November 2007.
He had been helping to install roof supports so equipment could be salvaged from a coal face where production had already stopped.
In an earlier hearing, the judge said he had read moving tributes from the dead men's families and praised them for their measured comments without "railing or complaining".
Mr Steeple's mother Anne said in a statement after the hearing that she was disappointed no individuals had been successfully prosecuted over her son's death.
"We wish all miners a long and safe future and are thankful Trevor doesn't know all we've been through since he was killed and how the system has let him down so badly."
Outside court, Bob Leeming, HM Inspector of Mines, said: "Fewer than 4,000 people are employed in the UK mining sector, which makes four deaths within 18 months even more stark.
"All it would have taken to prevent these deaths was better management and proper hazard control by UK Coal."
Andrew Mackintosh, director of communications for UK Coal, said: "We deeply regret any injury or loss of life and our thoughts are with the families of those involved in today's hearing."
He said the safety of the workforce remained the firm's main priority and it was reviewing all aspects of safety in its operations.