Downturn changes shopping habits in England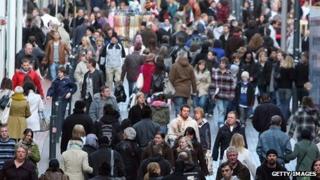 Shoppers in England have responded to the economic downturn by changing their habits, such as spending more at discount stores, say industry analysts.
Retail consultancy Pragma said single-price retailers such as 99p Stores and Poundland had "grown their businesses dramatically" over the past five years.
Train driver David Bowler, of Milton Keynes, said he shopped at £1 stores "all the time".
Meanwhile, retail sales across the UK fell by 0.4% in November, figures show.
The Office for National Statistics figures also showed retail sales, excluding fuel, fell 0.7% from October as consumers reined in spending.
Mr Bowler, 53, who was shopping at 99p Stores in Birmingham's Pallasades Shopping Centre, said: "As a train driver, I travel around a lot and these £1 shops are everywhere, so I use them most days.
"I get shampoos and things like dusters, polishes and Christmas stocking fillers and treats. It helps me a lot... I think it has saved me loads of money."
Jean Webb, from Kitts Green, Birmingham, said she had been shopping at budget stores since they first opened and it really helped her survive on her pension.
"A big one [99p Store] has opened in Chelmsley Wood and you can get everything there," she said.
"I get things like Cadbury brands for 99p which you would pay £2-£3 for in an ordinary shop."
She often buys two soups for 99p which she said would cost her double elsewhere.
"I'm 73 and I've got to save any money I have," she added.
Shopping vouchers
Pragma chief executive Patrick Woodhall said 99p Stores, Poundland and Poundworld had all grown their businesses and now collectively had 694 UK shops, compared to 347 in 2008.
"The demise of Woolworths and the increasing number of vacancies on the High Street has made it easier for these retailers to acquire shops at very competitive rents," he said.
He said discount shops were attracting more shoppers from managerial and professional groups as they became "more inclined to seek out bargains in the face of tighter budgets".
Mr Woodall said another key trend was the growth of value clothing chains and the sale of cheaper clothes ranges by supermarkets.
He said value clothing sales now represented 27% of UK clothing sales, although recently, increases in the price of raw materials and VAT had slowed growth in this area.
Other shoppers are saving money by searching online for vouchers.
Luke Jones, a self-employed website designer from Redditch, Worcestershire, said he had "saved hundreds of pounds" doing this over the last few years.
Meanwhile, the British Independent Retailers Association (Bira) has reported mixed fortunes among traders.
Michael Weedon, the association's deputy chief executive, said although retail vacancy rates in town centres were increasing, more independent traders were opening than closing.
"People take opportunities where shops fall vacant," he said. "There are rent-free periods, they may have a redundancy cheque in their pocket, maybe it's a life-long dream."
A Bira survey of 200 independent traders in the West Country found the average turnover was down 2.8%, compared to last year.
Mr Weedon said 40% of its members in the area had seen trade fall. However, 30% had seen sales increase.
He said shops such as furniture and floor covering retailers were seeming to do well despite the downturn.
Councils across England have been taking action to keep shops open on high streets, following the impact of the recession.
Retail expert Mary Portas has advised the government on how to revive the High Street, as a report showed a third of them were "degenerating or failing".
In Yorkshire, Bradford is struggling most with almost one in five of its city centre shops vacant, a Freedom of Information request revealed. Of the 676 shops in the centre, 126 were empty in October. This represents 18.7% of shops, compared to the UK average of 11.2%.
The Labour-run council said it was tackling the problem and the number of empty shops had decreased over the past couple of months.
Councillor David Green added: "I accept we have got to do a great deal more work."