Fake alcohol in East Midlands is 'growing trade'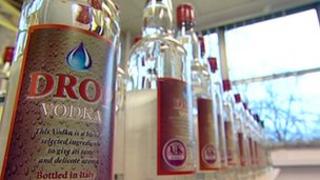 About 2,500 fake bottles of alcohol were recovered by Trading Standards in the East Midlands in the last year.
The figures, compiled for the first time by the service, revealed that about 60% were seized in Derby.
The statistics do not include alcohol seized by police or customs.
Their release follows the death of five men in a blast where vodka was being made in Lincolnshire, and four men being jailed for running an illegal distillery in Leicestershire.
Councillor Matthew Holmes, from Derby City Council, said it was a growing problem and in most cases industrial chemicals were used which can cause blindness.
He said: "Consumers are looking for a bargain, but when you're getting cheap vodka alarm bells should be ringing.
"If it's a brand you don't recognise, in most cases it can be illicit alcohol, you could be funding criminal gangs.
"The factories found in Leicestershire and Boston are just the tip of the iceberg."
In April, 600 bottles at an off-licence owner's house in Derby were seized.
The bottles were branded with Aros, Arctic Ice, Perfecta, Smirnoff vodka and Grants whisky.
In August, 900 bottles of the fake brand Drop vodka were intercepted in a van making a delivery.
The bottles contained isopropanol, used in anti-freeze and as a solvent.
The growing trade in illicit alcohol was highlighted after five men were killed in an explosion while making vodka in a unit in Boston, in Lincolnshire, in July.
The five victims were all Lithuanian nationals living in Peterborough.
In November, four men were jailed for running an illegal vodka distillery on a farm near Little Dalby in Melton Mowbray, Leicestershire.
The trial heard that the men - who evaded up to £1.5m of duty - could easily have caused an explosion.