Youth groups bid to tackle record unemployment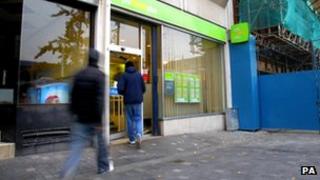 Youth organisations and charities across England are taking action to help young people trying to find work in tough economic conditions.
UK youth unemployment rose to 1.027 million, its highest rate since records began in 1992, latest figures show.
Isle of Wight charity Foyer, which helps 16 to 24-year-olds, said the downturn was the "worst ever for young people".
The government has announced a £1bn package to tackle youth unemployment.
Unemployment in the UK reached 2.64 million in the three months to October, a jobless rate of 8.3%, according to the Office for National Statistics.
But among 16 to 24-year-olds the unemployment rate has reached 22%.
Mark Cox, who runs the Foyer's job club which provides accommodation for up to 45 young people and helps them find work and training, said the charity aimed to keep them motivated and positive.
Work experience
He said: "We try and build up their skills and get them out early in the morning, getting them in a work culture".
Mr Cox added: "[This downturn] is the worst one I have known and the worst one ever for young people."
Peter Head, 24, who now is taking a football coaching course, spent time sleeping rough before going to the charity.
"I really want to work because I want to be able to do well for myself and earn a living," he said.
"My self-esteem and confidence has grown in the past few months and it [the Foyer] is helping me get a job."
In the South East, there were 159,000 young people who were not in education, work or training (Neets) during the third quarter of this year, according to Department for Education figures.
Meanwhile, the youth mayor of Mansfield in Nottinghamshire has called for more employers to offer work experience to young people after youth unemployment rose there by 25% in a year.
'Begging landlords'
Seventeen-year-old Daniel Winfield said young people were "desperate" to find work but were being hampered by a lack of experience.
"Young people feel like they're on a downward spiral, because they're asking for work experience but no-one is giving it," he said.
Dave Hayne, 19, lives in Swindon, Wiltshire, where 1,430 people under the age of 25 are looking for work.
Mr Hayne, who has been unemployed for a year, said: "I kept going to places handing my CV in, even begging the landlords of pubs, managers of shops, literally going down on my knees."
He has now decided to follow his dream to run his own boxing gym and is studying for an NVQ level two in gym instructing. He has taken a number of courses at Swindon College to boost his employability.
Joanne Oxley, project manager at the college, said the jobs were simply not there for people without qualifications or experience.
She said: "So get your education while you can, while it's free, get your maths and your English up and your work experience.
"It's not great working for free, but in the long term you will get a job out of it."
Common Purpose, a not-for-profit organisation, has been holding workshops for young people across England to help them approach the job market more confidently.
Operations director Louise Teboul said: "We encourage them to think about how they project themselves in interview situations.
"Sadly they will get some 'nos' but we've talked about how to keep motivated and keep going."
Law graduate Ester Francis, 24, who has been looking for a traineeship since graduating from Birmingham City University last year, was one of those who took part in a workshop.
"Competition for training contracts is so high at the moment because there are very few around," she said.
"Companies either aren't hiring, or are hiring people with more experience."
Last month the government pledged to spend almost £1bn to create 400,000 work and training placements for under-25s.
The Youth Contract will see firms given a subsidy of £2,275 for each unemployed 18 to 24-year-old they take on for six months.
Employment Minister Chris Grayling praised charities and groups who were helping young people.
"Voluntary sector organisations provide a vital service, helping us give young people the tailored support they need to get into employment," he said.
"They bring with them specialised skills and expertise to help some of the most vulnerable unemployed people find sustainable jobs."
Charles Levy, senior economist at the Work Foundation, said: "The challenge for many young people is that they lack the experience needed to compete in what is now a tougher labour market than at any point during the recession."
He added, however, the "major issue is finding jobs to place people in".
He said: "Overall, young people are still likely to be the last to benefit from any future recovery."