Bookseller Ahmed Faraz found guilty of terror offences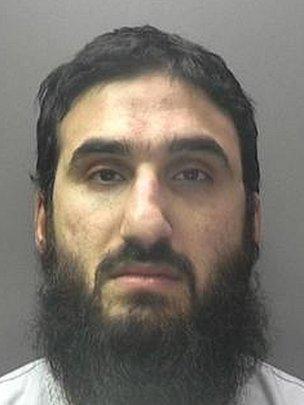 A bookseller from Birmingham has been convicted of possessing and distributing material that prosecutors said "primed people for terrorism".
Ahmed Faraz had material including an al-Qaeda training manual, bomb making instructions, and footage of murders - Briton Ken Bigley's among them.
Faraz, 32, had claimed the material was for academic research.
Jurors at Kingston Crown Court found Faraz guilty of 11 of 15 counts against him. He will be sentenced on Tuesday.
Faraz had initially faced 30 counts of possessing and distributing extremist material - but Mr Justice Calvert-Smith had directed jurors earlier in the trial to return not guilty verdicts for eight of the counts against him - and others have been left on file.
He was not accused of being part of a specific plot.
Faraz was found guilty of possessing and disseminating some of the most well-known publications found in the homes of people convicted of terrorism-related offences over the past decade.
Some of them were accounts of resistance by Muslims in various historic events, including the battle against the Soviet Union in Afghanistan.
Other material related more directly to al-Qaeda's philosophy or its historic roots.
One of the books he was found guilty of disseminating was an edition of Milestones, an important text in the development of Islamist political thinking in the 20th century.
The book, by Sayyid Qutb, is freely available and is studied widely. But police said the special edition of Milestones sold by Faraz was developed specifically to promote extremist ideology.
Other charges related to military training videos, including bomb-making instructions.
In a statement after the verdict, the West Midlands Counter Terrorism Unit (CTU) said Faraz had been convicted of seven counts of dissemination of terrorist publications and four counts of possession of information likely to be of use to a person committing or preparing for an act of terrorism. Seven other similar charges would lie on file.
Police in January 2007 and January 2010 seized thousands of books, videos, DVDs, invoices and other records from Faraz's Maktabah shop and other addresses associated with him.
Officers also recovered a "substantial" number of computer files containing copies of terrorist publications and evidence of widespread distribution, the CTU said.
Det Chief Supt Kenny Bell of West Midlands Police said: "This trial was not about censoring books but about the defendant's role in the mass distribution of material, which had been added to and manipulated, in order to prime would-be terrorists to commit violent acts.
"Some of these publications have previously been cited by convicted terrorists as influencing their actions. Other items contained explicit instructions on how to make explosive devices and how to kidnap people.
"The content of some of the material that formed part of the investigation was so graphic we could not show it to the jury."
Related Internet Links
The BBC is not responsible for the content of external sites.