Travel in Devon and Cornwall disrupted by rain and wind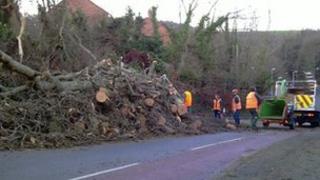 Severe gale-force winds closed part of the Tamar Bridge - one of the main routes between Devon and Cornwall.
The centre lane was closed overnight and and high sided vehicles, caravans and motorcycles were advised not to cross.
The severe weather also resulted in the cancellation of Brittany Ferries services to and from France.
The Met Office warned that gusts could reach 70mph, with the potential to cause damage.
The Environment Agency issued flood alerts on a number of rivers in South West England.
The ship Gry Maritha, which takes supplies from Penzance to Isles of Scilly, did not sail on Monday because of high winds and swell.
Western Power reported 329 homes without power in the Brixton area of south Devon on Monday evening.
Houses were evacuated in Plymstock near Plymouth where a tree was blown down.
Flooding was reported in the Dartington area near Totnes where a number of cars were abandoned.