Isle of Wight charity claims youth unemployment 'worst ever'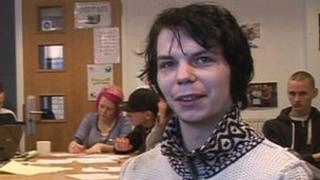 The current economic downturn is the "worst ever for young people", a charity says.
The Foyer, on the Isle of Wight, provides accommodation for up to 45 people aged 16-25 years old and also helps them get jobs and training.
Figures released earlier saw UK youth unemployment rise to 1.027 million, the highest since records began in 1992.
In the South East, the number of young people not in education, employment or training (Neet) are 159,000.
Five years ago, this figure stood at 114,000 while 10 years ago there were 95,000 young people classed as Neets in the region, which includes Hampshire, the Isle of Wight, Berkshire, Surrey, Oxfordshire and West Sussex.
In the South West, which covers Dorset and Wiltshire, there were 82,000 Neets for the third quarter of this year compared to 57,000 in 2001 and 74,000 five years ago.
The Foyer was established in 2001 and provides services for 16 to 25-year-olds who may be homeless or in need of housing.
Peter Head, who is currently taking a football coaching course, spent time sleeping rough before he came to the charity.
"I really want to work because I want to be able to do well for myself and earn a living," he said.
"My self esteem and confidence has grown in the past few months and it [the Foyer] is helping me get a job."
Kieran Lindemann, 21, said: "My CV before was awful and the CV that I have done here [at the Foyer], I've been told is really good.
"I live on jobseekers' [allowance] and it's not very nice... about £46 every week."
Mark Cox, a training consultant and who runs the charity's job club at the Foyer.
He said: "We try and build up their skills and get them out early in the morning, getting them in a work culture... to keep them motivated and positive while they apply for their jobs.
"[This downturn] is the worst one I have known and the worst one ever for young people."
Last month the government pledged to spend almost £1bn to provide unemployed young people with extra help as part of a new Youth Contract.
Deputy Prime Minister Nick Clegg said: "The aim of the Youth Contract is to get every unemployed young person earning or learning again before long-term damage is done."
Other moves include creating up to 410,000 work and training placements across the UK and plans to create a £50m programme to get the 25,000 most disadvantaged 16-and 17-year-olds in England on to apprenticeships or into work.