Biggest study into carbon monoxide poisoning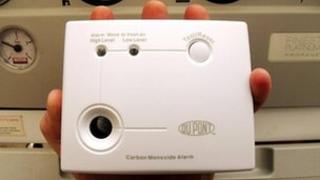 Two fire services have embarked upon Britain's biggest study into carbon monoxide (CO) poisoning, to try to reduce the number of deaths it causes.
Crews on Merseyside and in the West Midlands have visited more than 20,000 properties to take household readings of the deadly gas.
They plan to put monitors in 1,200 homes in Liverpool to take readings every two minutes for two weeks.
Fire chiefs hope the research will help to highlight the extent of the problem.
Carbon monoxide is a colourless, odourless and tasteless gas.
Accidental exposure kills about 50 people each year in England and Wales. A further 4,000 people are diagnosed with CO poisoning at Accident and Emergency departments.
The study's lead academic Dr Andrew Shaw, of Liverpool John Moores University, fears many more people are likely to be exposed and suffer from CO poisoning but remain unaware of the true cause.
"This is very important because, for the first time, this will show how many homes do not have CO alarms fitted and get a true figure on the potential risk for CO poisoning," he said.
"The impact on people's health may well be underestimated because of this lack of knowledge."
Dr Shaw, of the university's Built Environment and Sustainable Technologies Research Institute, added: "This is the first study of its kind in the UK of this size.
"Previous studies have looked at 500 to 600 dwellings in a targeted fashion."
Gary Oakford, of Merseyside Fire and Rescue Service, said of the 17,649 properties visited on Merseyside, most homes - 15,576 - did not have a CO alarm installed.