Hockney art trail across Yorkshire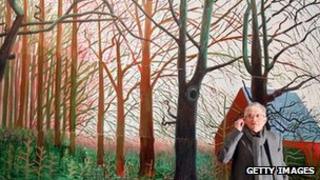 A trail following the work of artist David Hockney is set to be launched in Yorkshire next year.
The Bradford-born artist will reveal the locations of some of his recent work across the region to coincide with a London exhibition.
Bradford will be among the locations included, as will East Yorkshire villages including Warter and Sledmere.
Welcome to Yorkshire, which is organising the trail, said it was working to identify other sites.
The launch of the trail will coincide with the opening of Hockney's exhibition in January at the Royal Academy of Arts, called A Bigger Picture.
Gary Verity, chief executive of Welcome to Yorkshire, said: "It is very early stages but we are very excited to be working with David Hockney on a new trail.
"We believe there will be massive global interest in Yorkshire following his Royal Academy show so we are working with him to identify sites that will satisfy the public's curiosity in his work but also not impose on his privacy."
Welcome to Yorkshire said a variety of landscape paintings of East Yorkshire and the Yorkshire Wolds would feature on the art trail.