East Midlands Ambulance Service loses £130m contract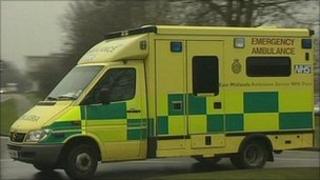 East Midlands Ambulance Service (EMAS) has missed out on a £130m contract to provide non-emergency patient transport services in the region.
EMAS currently holds the contract to provide services in Nottinghamshire, Lincolnshire, Derbyshire, Leicestershire and Northamptonshire.
Instead, two private sector companies have been awarded the contracts, which will start next year.
EMAS currently receives about £20m each year for providing the service.
Phil Milligan, chief executive of EMAS, said he was very disappointed that East Midlands Procurement and Commissioning Transformation (EMPACT), which acts on behalf of the region's primary care trusts, had taken the decision.
He said: "Our focus now is on the welfare of our staff as we share this news and we will be working hard over the next few days to analyse the impact on them and the organisation as a whole.
'Eligible for jobs'
"We are fully committed to providing the best possible care for the patients we serve during the transfer of responsibilities to the new providers, which we understand will happen in early 2012," he said.
An EMPACT spokesperson said existing patient transport employees in the East Midlands would be eligible for jobs with the new operators under the same terms and conditions as their current employment contracts.
They added that the preferred bidders were chosen following a process involving "assessment against a pre-determined scoring criteria", which included assessments of quality, performance, management, environmental impact and financial viability.
Arriva Passenger Services Ltd is the preferred bidder for Nottingham City, Nottinghamshire, Bassetlaw, Leicester, Leicestershire and Rutland.
NSL Ltd is the preferred bidder for Northamptonshire, Lincolnshire, Derby and Derbyshire.