End is nigh for the Politics Show - the souvenir blog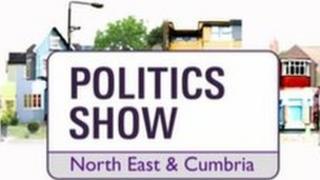 Nine years ago as a mere boy broadcaster (don't scoff), I was among many enthusiasts excitedly awaiting the launch of a new political programme.
The Politics Show set out to break the mould, principally by forcing male presenters to dispense with their ties.
There was an initial hitch with my relationship with the North East and Cumbria section of the programme - I wasn't presenting it.
That honour belonged to Mary Askew.
But she enjoyed the experience so much that after a year she decided to take unpaid leave and go to Africa. (She would subsequently decide to have children just to avoid any danger of becoming entangled in it again).
Because of my unique talent (or cheapness), I was offered the gig as the new presenter.
And the rest - as they say - is history.
Down-at-heel
Somehow I have managed to blag my way through the last eight years.
Through that time, the programme set and I have had a series of make overs but somehow both of us have always managed to look rather down-at-heel.
I started off standing next to a stack of televisions.
I then stood next to a strange monolith with PS carved into it, before then standing next to a fake street sign.
Literally tens of pounds were lavished on those sets.
And then there was my 'look'. At first I didn't wear a jacket, then I did, but not as part of a suit, then I did wear a suit.
I started in a static chair, and then after much campaigning and frankly bellyaching on my part, I got a swivel attachment.
During that time, all to illustrate serious political points, I tried to sell jellied eels to civil servants, paraded through Durham with a Guy Fawkes sporting a Nick Clegg mask, and played crazy golf.
What fun we had.
Good news
But now I am afraid the end is nigh.
For this weekend the last ever Politics Show will go to air as we say in the trade.
I know you'll be beside yourself, but try to stay strong, for there is some good news.
Regional politics and I will be regenerating Doctor Who-like in the New Year into a new programme - Sunday Politics (although sadly my face will stay the same and there'll be no glamorous assistant).
It will have all the good bits - namely me - but none of the bad bits - namely the set.
And - whisper it - I might even wear a tie. Truly ground breaking I know.
Accessible politics
But, if I can be serious for a moment, I do believe the Politics Show has completed its mission.
We set out to make politics more accessible and to play our part in shifting the focus from the traditional media obsession with the Westminster village.
In most weeks I think we managed to explain and explore how political decisions affect people's lives in the North East and Cumbria.
We have also done our bit in holding the politicians to account for those decisions.
It's a programme which has given me the chance to interview everyone from Tony Blair to Gazza.
And it has also allowed me to blog and tweet (something that will continue).
But of course we couldn't have done it without you, the viewers.
I thank each and every one of you (except the man who once wrote in to say I looked like a scarecrow).
So RIP Politics Show. We will remember you.