Narcolepsy link to swine flu vaccine investigated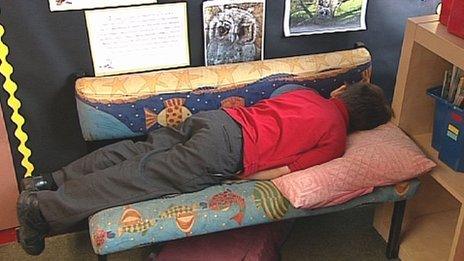 For almost two years, an infant school pupil has found himself losing muscle control and falling asleep at a moment's notice due to a rare sleeping illness.
Six-year-old Josh Hadfield, from Frome in Somerset, had shown no symptoms of narcolepsy prior to February 2010, and it took another year for doctors to diagnose the condition.
Josh's mother, Caroline, fears it could be linked to a swine flu vaccine called Pandemrix which he received three weeks before showing symptoms.
Tests in the UK have not revealed a link between Pandemrix and narcolepsy, although the Medicines and Healthcare Regulatory Agency said "a similar risk had only been confirmed in Finland and Sweden".
Mrs Hadfield said her son "became a different boy" soon after receiving the vaccination, and Josh was also found to have cataplexy which makes his muscles collapse whenever he laughs.
She said: "Initially, I put it down to being the end of term, coming up to half-term week.
"He was tired and then he started losing muscle control so he couldn't hold things properly.
"He needed you to support his hand because it was just dropping forward. It was horrible."
In Finland, investigators found 79 vaccinated children and adolescents had developed narcolepsy, 12 times more than they would expect.
The Finnish government said it accepted a link between Pandemrix and narcolepsy and has promised compensation and support for affected families.
Health Minister Paula Risikko said: "We have decided to take these measures because the decision to acquire the vaccine was ours under the threat of a pandemic, and therefore we want to take the responsibility for the outcome."
The vaccine is manufactured by GlaxoSmithKline, whose UK medical director Dr Pim Kon said: "There is currently no evidence at all to suggest there is a causal link between Pandemrix and narcolepsy.
"We are working very hard with the regulatory authorities to try to understand what is happening.
"At the end of day, patient safety is of utmost importance to us and we wouldn't ever put out a drug or leave it out there if we believed that it actually was a true issue."
The European Medicines Agency said in July studies had shown a six to 13-fold increased risk of narcolepsy in children and adolescents vaccinated with Pandemrix compared with unvaccinated children.
But it added there appeared to be a link but the vaccine "is likely to have interacted with genetic or environmental factors which might raise the risk of narcolepsy, and that other factors may have contributed to the results".
And despite six million doses being administered, only seven children have been reported to have developed narcolepsy after taking Pandemrix in the UK.
But Mrs Hadfield believes there could be more families affected and has set up a Facebook campaign to try to track them down.
One such child is eight-year-old Lucas Carleton from Liverpool who has been off school for nearly a year and can sleep up to 20 hours per day.
His mother Pauline said: "He was a humorous little boy who used to make me laugh so much. He had a wicked sense of humour.
"All that's gone and all that's left is this angry frustrated little boy. It's heartbreaking, absolutely heartbreaking."
The full story can be seen in Inside Out West on Monday 12 December on BBC One at 19:30 GMT. The programme is also available on the BBC iPlayer for seven days.
Related Internet Links
The BBC is not responsible for the content of external sites.