Unilever workers begin first national strike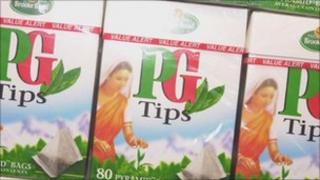 Employees at consumer goods company Unilever have begun strike action for 24 hours in a row over an "unacceptable attack" on their pensions.
More than 2,500 members of staff took action at sites in Gloucester, Port Sunlight, Purfleet, Norwich, Leeds, Manchester, Bedford, Burton-on-Trent, Crumlin, Deeside and Warrington.
A spokesman for Unilever said it was "very disappointed" at the action.
The dispute is over plans to end the company's final salary pension scheme.
'Recession as cover'
Members of Unite, Usdaw and the GMB unions are taking part in the 24-hour stoppage, the first national strike at the company, over proposals which they say will cut retirement income for staff by up to 40%.
Unions said the strike, at various times at the 11 sites, would hit production of Unilever's brands including Dove, Marmite, PG Tips, Pot Noodle and Hellman's Mayonnaise.
Jennie Formby, national officer at Unite, said: "Thousands of our members will walk out to show their disgust at Unilever's unacceptable attack on their pensions.
"Their pension fund is financially robust and yet Unilever, a highly profitable company, has shown little willingness to negotiate seriously to avert this dispute.
"This is a disgraceful incidence of a wealthy global company using the recession as cover to raid the pensions of the less well-off. Unite is demanding that Unilever reconsiders its plans."
'Major improvements'
A Unilever spokesman said: "We fully understand the strength of feeling prompted by our decision to close our final salary plan.
"Our pensions arrangements in the UK have to reflect today's realities if they are going to be sustainable into the future and this means making tough choices, including an acceptance that final salary pensions are no longer a viable option for the company."
The company said it had listened to feedback during a 100-day consultation.
"As a result, we made three major improvements plus several significant enhancements to our original proposals which will offer our employees a very competitive and valuable set of pensions arrangements for their future service."