Last minute bid to beat solar panel tariff deadline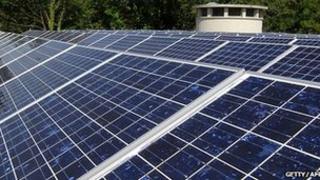 An eleventh-hour rush to install solar panels has been taking place, as householders try to beat the deadline to benefit from a greater financial incentive to produce their own electricity.
The last minute boom follows the government's decision to slash the subsidy available to those who generate their own solar power.
From December 12, the feed-in tariff for residents who install solar panels will be reduced from 43p for each kilowatt-hour generated to 21p per kWh.
The timing of the move has been criticised by environmental campaigners and the green energy industry, with claims the decision will cost thousands of jobs.
No warning?
Poultry farmer Robert Borrill took out a £150,000 loan to install solar panels on his farm in North Lincolnshire.
He signed the contract and paid for planning permission, but was told he would not be eligible for the higher tariff due to the reduction, which many did not expect until 2012.
Speaking to the Politics Show in Yorkshire and Lincolnshire, Mr Borrill said: I am absolutely livid. All the warning signs were that the tariff would change next April, which would have given us time to prepare.
"We've paid the money, we've signed the contract and out of the blue a decision like this comes through to cut the tariff now."
Solar subsidy
Ministers claim the feed-in tariff was simply unaffordable at the previous level and argue the cost of photovoltaic panels have fallen since the scheme was launched.
The solar subsidy scheme, worth £867m, is funded by a charge on consumer energy bills.
In November, two of Britain's biggest solar panel installers and the environmental campaign group Friends of the Earth launched a High Court bid to prevent the tariffs being cut by the government.
Figures released by the energy regulator Ofgem reveal the amount of solar power generated by the domestic market has increased more than ten-fold since the subsidy began in 2010.