Eight 'core cities' in England given extra powers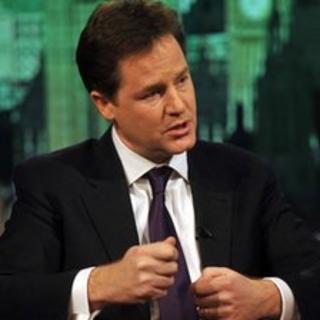 Eight of England's big cities will be given extra powers to raise their own funds and decide what to spend them on, the government has revealed.
Deputy Prime Minister Nick Clegg said Birmingham, Bristol, Leeds, Liverpool, Newcastle, Nottingham, Manchester and Sheffield would be "core cities".
He said giving the councils special status would boost economic growth.
But Labour's Hilary Benn said the government's economic policy was "undermining growth" in core cities.
The government said the first wave of "City Deals" would focus on the eight core cities and their Local Enterprise Partnerships.
Speaking in Leeds, Mr Clegg said the status would give them more freedom from Whitehall to invest in and secure money for major spending projects.
He said the councils would have more say on infrastructure projects such as those for roads and buildings.
Under the plans, the cities will be able to keep and set their local business rates, rather than receive a share of those decided by the government.
'Whitehall's leash'
Mr Clegg said: "We need our cities to be economic, social and cultural magnets - places people aspire to live. Firstly, cities will have greater freedom to invest in growth. Secondly, having power over transport, housing, broadband. Finally, the power to boost skills and jobs.
"Our cities have been straining at Whitehall's leash. They now have a once in a generation opportunity. I urge them to seize it and make it count."
Decentralisation Minister Greg Clark later told the Commons the eight were not being favoured over other cities.
"The intention is to start a series of negotiations with cities," he said.
"It's not a definitive announcement of powers that are being invested in one city rather than another."
Mr Clark said the plans would boost economic growth as the cities would be able to focus on creating employment in specific sectors and would have "great capacity to create private sector jobs".
But Mr Benn, Shadow Local Government Secretary, feared wealthier parts of the country would be preferred for investment from new businesses.
"We support strong and innovative local government and it should have the powers it needs to do that job, but no amount of warm words will hide two very uncomfortable facts - the government is cutting unfairly and its failed economic policy is undermining the growth of our core cities and all local communities.
"What they really need is a change of course."