Ipswich Town's Michael Chopra fined for speeding in Essex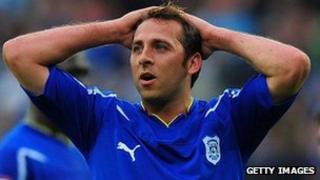 An ex-Premier League footballer has been fined £1,000 after admitting driving his car along the A12 in Essex at 106mph (170.6 km/h).
Ipswich Town striker Michael Chopra, 27, of Warkworth Woods, Newcastle-upon-Tyne, was also banned from driving for 56 days by Chelmsford magistrates.
The offence took place on the A12 at Colchester on 13 September.
Former Sunderland player Chopra signed a contract with Ipswich in June.
Chopra was also ordered to pay £95 costs.
'Lapse in concentration'
Chelmsford Magistrates' Court heard he had a "lapse in concentration" as he was driving back from London to his rented accommodation in Ipswich after watching a football match.
He was clocked by an officer with a handheld speed gun and could have been disqualified under the "totting up procedures" as he already had nine points on his licence.
However, chair of the bench Patricia Dair told him: "You are being disqualified for speeding - not totting up."
Chopra, who recently attended rehab for gambling addiction, had previously been disqualified for six months under totting up rules on 29 June 2009, and accumulated nine points for three offences of speeding on 8 May and 8 September 2010 and 9 June 2011.
Matthew Taylor mitigating, said : "Mr Chopra sincerely apologises to the court. It was a lapse in concentration. He was travelling to Ipswich following a trip to London to watch football."
Chopra, who was in court, declined to comment after he was sentenced.