West Midlands housing market 'broken', says NHF report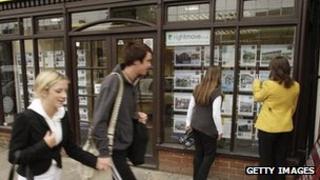 The housing market in the West Midlands is "broken", with more social and affordable housing "urgently" needed, according to a new report.
The National Housing Federation (NHF) published the Home Truths 2011 report at Parliament on Wednesday.
It showed the average home in the region costs £177,913, nine times the average wage.
South Shropshire is the worst area, with houses on average costing 14 times people's annual income.
By comparison, people wanting to buy a house in Stoke-on-Trent have to spend just five-and-a-half times their annual wage to buy a house.
In rural south Shropshire the average wage is the lowest in the West Midlands, just £17,113, while house prices are about £60,000 above the average for the region at £239,000.
While Stoke-on-Trent also suffers from low wages, slightly more than £18,000, house prices are considerably lower, on average less than £100,000.
The West Midlands report was launched at an event hosted by Solihull MP Lorely Burt.
Amy Beddis, its policy officer, said she would like to see more investment in house-building, and a greater emphasis on shared ownership.
The NHF said building more houses would bring prices down and generate more money for the economy.
Across the region the NHF said more than 350,000 people (157,000 families) were on housing association waiting lists for social housing.