Ministry of Defence to cut 440 civilian army jobs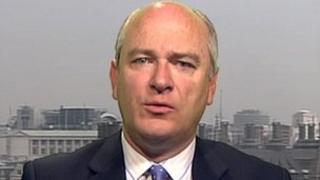 More than 400 Ministry of Defence jobs will be cut when regional headquarters close to be replaced by a central HQ.
Minister of State for the Armed Forces, Nick Harvey, revealed there will be 440 job losses among civilian staff.
However, the new army Support Command HQ at Aldershot, Hampshire, will gain 104 civilian jobs in the cost-saving structural changes.
Mr Harvey said: "Civilian staff declared surplus will be placed in the department's redeployment pool."
'Losses offset'
Once the new HQ is established, Headquarters 2nd Division at Edinburgh, Headquarters 4th Division at Aldershot and Headquarters 5th Division at Shrewsbury will close.
Structural changes will also be made at the 10 regional brigades, and to HQ London District, to gain further savings.
The regional HQ job loss details are:
Headquarters 2nd Division at Edinburgh will lose 103 civilian jobs
Headquarters 4th Division at Aldershot will lose 82 civilian jobs
Headquarters 5th Division at Shrewsbury will lose 63 civilian jobs
Mr Harvey confirmed the job cuts in a written statement in response to a written parliamentary question from Shadow Defence Secretary Jim Murphy.
"This restructuring will remove 440 civilian posts from our regional force structures at both Division and Brigade levels, and their supporting units," he said.
"These losses, which were included in the reduction target announced in the Strategic Defence and Security Review White Paper, will be offset by the creation of a number of posts in the new Support Command Headquarters in Aldershot."
About 42,000 MoD civilian and armed forces jobs are to be cut by 2015 as defence spending falls by 8% over the next four years.
Mr Murphy responded by saying the cuts were part of a "flawed defence review" and would be a "big blow" to Edinburgh.
He added: "Savings must be made but the defence review, which is already looking out of date, is driven by cuts which go too far and too fast, not by the defence needs of our country.
"The whole defence review should be reopened so we can get the right structure with the right personnel in the right place.
"Civilian staff play a critical role in supporting our brave armed forces and these sudden cuts will be a blow to morale not just at Edinburgh but across the UK."