Car exports benefit West Midlands suppliers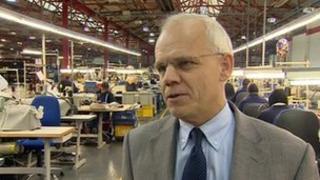 West Midlands automotive suppliers have created more than 1,500 new jobs in the region in the last year, according to a government-backed agency.
The Manufacturing Advisory Service (MAS) said an increase in global exports among West Midlands car companies had benefited suppliers.
It said a 31% increase in export orders had sent a "wave of optimism" through the supply chain.
Component suppliers and textile companies are among those to benefit.
MAS's Rachel Eade said: "What started as a year of uncertainty has turned into one of the most promising 12-month periods in the recent history of the UK automotive sector."
She added that much of the level of optimism was expected to continue next year as it involved on-going and and future UK-made vehicle models.
New equipment
Tipton-based CabAuto makes interior trim for a number of West Midlands car makers, including Jaguar Land Rover and Aston Martin.
The company's managing director John Faulkner said it had created 57 new jobs in the past year, a 33% increase, and was investing £2m in new equipment on the back of new orders.
Ms Eade said Malvern-based car maker Morgan had more than 700 orders for its new three-wheel model, with most of the parts sourced directly from the West Midlands.
Another specialist car manufacturer CPP Global Holdings has also announced that the new Jensen Interceptor will be designed, developed and built in Coventry.
MAS said recent disasters in Japan and Thailand had also encouraged some UK manufacturers to source components from closer to home.