Fish deaths in River Kennet prompt water conservation bid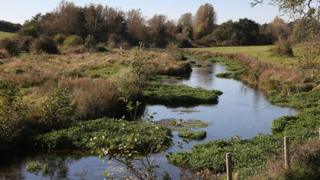 Fish deaths in the River Kennet because of a drop in water levels have prompted a conservation campaign.
The chalk stream which runs through Berkshire and Wiltshire, is home to trout, otters and kingfishers.
Low river levels in Kent, Surrey, Hertfordshire and Gloucestershire have prompted similar action plans.
"There is no water in the [Kennet] and hundreds of fish have died," Charlotte Hitchmough of Action for the River Kennet (ARK) charity, said.
The river looked more like a "footpath" at the weekend, because it has been so dry, Ms Hitchmough said.
Billboards will be put up in Hungerford and Marlborough in the New Year, as these areas use water from the Kennet.
Care for the Kennet is the first of seven regional river protection campaigns over December and January overseen by Thames Water following a year of very low rainfall.
The River Kennet is a tributary to the River Thames.
According to Thames Water, 468mm of rainfall has fallen this year compared to the annual average of 739mm.
The company said it would need around 80% of its long-term average winter rainfall to rule out the likelihood of drought-related water-use restrictions next year.