South East Water in 'Wanted' drought poster plea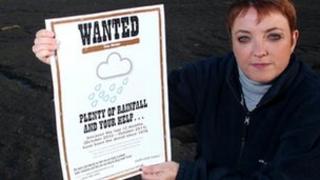 A campaign urging people to conserve water has got under way in the South East as the drought situation worsens.
South East Water has issued a "Wanted" poster to send to councils, organisations and interest groups.
Lee Dance, head of water resources, said the poster was designed to get across a "serious message".
He said the firm's Sussex reservoirs were reaching their lowest ever levels and it had to minimise the impact of "what could be a worsening drought".
Water efficiency
This week the firm requested a drought order to help fill Ardingly Reservoir.
The company has already written to households supplied by both Ardingly and Arlington Reservoir in Sussex urging them to take water efficiency measures at home and work.
The company supplies water to 2.1m customers in Kent, Sussex, Surrey, Hampshire and Berkshire.
Two other water firms in the region, Thames Water and Sutton and East Surrey Water, have also urged customers to conserve supplies.
Sutton and East Surrey Water said its reservoir at Bough Beech was 41% full, but it did not currently anticipate supply issues provided customers continued to use water with care.