Cuts delay £300m River Thames flood protection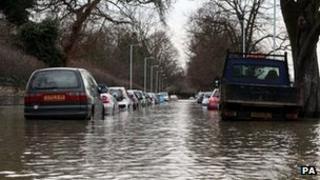 Work to protect 15,000 homes in the Lower Thames area from flooding has been delayed by government funding cuts, residents have been told.
Properties, from Datchet in Berkshire, through Surrey to Teddington in west London were at "significant" risk, the Environment Agency (EA) said.
But it said it only has 55% of funding for the £300m flood protection scheme.
In 2010, the government backed the work but said funding for it should be shared with local authorities.
Kathleen Croft, whose home has flooded three times since 2000, said it was very worrying.
'House rebuilt'
"It was absolutely terrifying," Ms Croft, who runs Paws Boarding Cattery in Stanwell Moor, said.
"My business was put out of action for a month and I had to live in one room for five months while the entire house was rebuilt.
"It cost the insurance company £100,000."
The EA has held three public exhibitions this week, at Wraysbury, Staines and West Molesey, to explain the progress of the flood protection scheme.
It includes building three flood diversion channels, improving existing river weirs and providing localised protection for some homes.
The scheme was approved by the EA in November 2010 and the Department for Environment, Food and Rural Affairs in July this year.
Expenditure reduction
But the government's Comprehensive Spending review last year said the cost would have to be shared with local authorities through "partnership funding".
Public meetings were last held during a consultation period in 2009.
"When we consulted the public back in 2009 we were fairly confident that the funding would be made available," said EA spokesman Barry Russell.
"Now with the changes in government funding we had our capital expenditure reduced by 27%.
"Also, the government has brought in partnership funding so we are now looking to develop the partnerships that will secure the money needed."