Sunderland mother speaks about alcohol abuse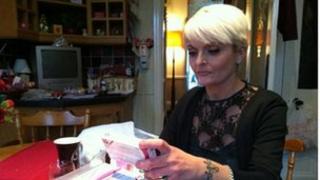 At the height of her drinking Joanne Patterson was consuming about three bottles of wine as well as lager every day.
She had her first alcoholic drink when she was 13, then resumed drinking in her late teens.
The 41-year-old mother-of-three from Sunderland was diagnosed with liver disease two years ago and now has to take up to 100 tablets a week.
She was speaking as figures from Balance, a North East alcohol and health campaign group, showed the number of hospital admissions for people in their early 30s in the region had increased by 400% over eight years.
Ms Patterson said drinking became a habit and a routine. She said she could drink a bottle of wine without feeling the effects.
'Irreversible damage'
"As I would go shopping I would buy bottles of wine and before I had unpacked my bags I would look for the bag that had the wine in, open that have a glass of wine."
She did not think she was doing anything wrong at the time because there were no symptoms, but in 2009 she started to have bad pains and her stomach swelled up.
Then she had period of no problems before her stomach, legs and ankles swelled up.
She was admitted to hospital and has been in and out since for a total of 300 days.
She now needs a liver transplant.
"I take 90 to 100 tablets a week and that's just basically to keep me alive" she said.
"You're itchy all the time. My liver is enlarged so that gives me pain. I have got cirrhosis of the liver not just chronic liver disease. And obviously with alcohol being a poison it kills off your brain cells.
"And what's to say it's not going to happen to anyone else because I never thought I would get this much damage from drinking.
"But I have done and it's irreversible damage and I have to take tablets for the rest of my life. My liver could fail at any time."
She advised other people to watch what they were drinking.