Liver specialist: Action needed on drinking culture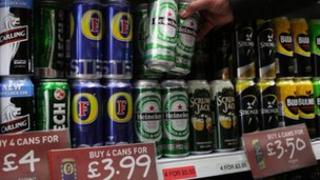 Hospital consultants in north-east England have reported seeing an "epidemic" in the number of people in their early 30s with alcoholic liver disease.
They say the price of alcohol and its promotion and availability to young people is to blame and have called for a review of alcohol advertising.
It is a battle Prof Sir Ian Gilmore, the Royal College of Physicians' special advisor on alcohol, has been fighting for many years.
"Current Westminster policies simply don't go far enough, and our only hope of reversing this damage and death in our young people before it is too late is to directly target the widespread availability of cheap and heavily marketed alcohol," he said.
Sir Ian is also the chairman of the UK Alcohol Health Alliance, a union of more than 30 medical bodies, charities and health campaigners set up to tackle the growing problem of alcohol misuse.
A liver specialist for 31 years, he said the group was trying to tackle a "culture of drinking in the UK" which he described as a very difficult challenge.
Treatment 'patchy'
He said people were drinking at a much younger age, with liver disease taking about five to 10 years to take hold.
"We are now seeing people in their 20s and 30s with advanced alcoholic liver disease, both men and women.
"Thirty years ago it was a condition of middle-aged and elderly men."
The alliance was set up in 2007 and Sir Ian said it aimed to advise and lobby about the harm of alcohol in a similar way Ash (Action on Smoking and Health) did for cigarettes.
It also aims to improve treatment for people with alcohol liver disease as he said services across the country were "patchy".
Sir Ian believes that government legislation over advertising and restrictions on low alcohol prices is the main way forward.
But the drinks industry body the Portman Group disagrees.
'Strictly policed'
It says it is vital to look at alcohol misuse in context.
"The vast majority of people in the UK drink responsibly and 75% of adults drink within the chief medical officer's guidelines," its chief executive Henry Ashworth said.
The group says the UK has some of the strictest rules in place to prevent alcohol being marketed to children.
Mr Ashworth said "these rules are strictly policed by us and the Advertising Standards Authority".
Sir Ian recently spoke out against a night club which charged a £5 admittance fee for students who could then buy alcoholic drinks at only 10p each.
He said a campaign in 2004 to have health warnings on drink labels had not been successful and it had been difficult to get the drinks industry fully on board.
But he added: "There is progress. All the major political parties now see that the price of alcohol is an important factor."
But he said, once in power, governments faced pressure from the public, supermarkets and the drinks industry over increases to the price in alcoholic drinks.
The Scottish government has announced plans to reintroduce a minimum price for a unit of alcohol to tackle misuse. Wales and Northern Ireland are also considering plans, which Sir Ian said could put pressure on the coalition government.
"It may be like the smoking ban when the devolved nations showed Westminster the way," he said.
A Department of Health spokesman said: "We have been working with partners to develop a programme of work to test new ways of raising awareness, identifying liver disease early, and improving access to treatment, which will be published shortly in a Liver Strategy.
"It will set out the outcomes the NHS needs to achieve to reduce deaths from liver disease.
"The government has already taken tough action to strengthen licensing laws through the Police Reform and Social Responsibility Act. The new framework for public health will devolve responsibility for preventing and tackling alcohol misuse to local level.
"We will publish the government's new alcohol strategy document in the first months of the new year."