HMS St Albans and HMS Edinburgh return to Portsmouth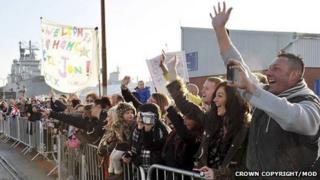 Two Royal Navy warships have returned to their Hampshire home port after six months at sea.
Hundreds of sailors onboard HMS St Albans and HMS Edinburgh arrived back in Portsmouth in time for the Christmas holidays.
About 600 people gathered at the city's naval base when the ships arrived at 10:30 GMT.
One sailor got down on a bended knee and proposed to his girlfriend as he arrived to meet her.
Able Seaman Aron Stoker, 23, from York, popped the question to girlfriend Hannah Reeson, 19, as he disembarked from HMS St Albans.
He said: "I just knew it was the right time."
Miss Reeson said: "It's all very emotional. It's going to be the best Christmas ever."
HMS St Albans was returning from an operational tour of the Middle East and HMS Edinburgh from the South Atlantic.
BBC South reporter Steve Humphrey described the atmosphere on Portsmouth quayside as one of "jubilation".
He said: "There's great excitement among the families and friends of the sailors, with many jumping, cheering and holding up 'Welcome Home' banners."
Seasick crewman
In June, while policing busy shipping lanes off Oman, HMS St Albans rescued 13 crewmen from a stricken Indian tanker.
The crew had sent a Mayday email, picked up in the UK, to report that their vessel had been taking on water.
The warship went to the tanker's aid and its helicopter winched the seasick crewmen to safety in rough seas.
Cdr Tom Sharpe, the commanding officer of HMS St Albans, said: "What this deployment lacked in glamour it has made up for in sustained productivity, grit and influence."
HMS Edinburgh's deployment was the first after a £17.5m refit. The ship began its tour in Lisbon, before moving on to the Cape Verde islands, San Vicente, Angola, and South Africa.
Cdr Paul Russell, HMS Edinburgh's commanding officer, said: "Edinburgh's footprint spanned over four continents in temperatures ranging from -19C to 32C (-2.2F to 89.6F).
"The ship and her crew have demonstrated the versatility and agility that typifies the modern Royal Navy."
On returning to Hampshire the two warships first sailed past the Round Tower, before arriving at Portsmouth naval base.
Portsmouth City Council leader Gerald Vernon Jackson said the crews and their families would be invited to the Guildhall for a reception to officially thank them for their work on deployment on behalf of the country.