Bobby Roberts' Circus owners face 'elephant abuse' trial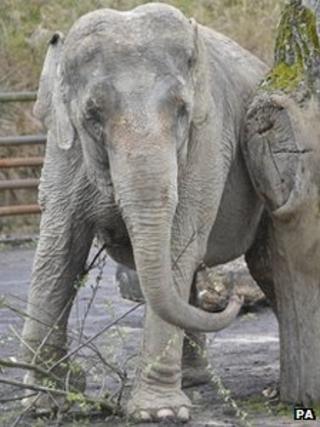 The owners of a circus elephant which was filmed apparently being beaten by a keeper are to go on trial charged with causing her unnecessary suffering.
Corby Magistrates' Court said Bobby and Moira Roberts, of Brook Farm, Oundle, Northamptonshire, would stand trial on 18 June next year.
Their solicitor John Whiston indicated the couple would plead not guilty.
They are accused of causing unnecessary suffering and failing to restrain an employee at their Peterborough circus.
The couple are charged with keeping the 58-year-old elephant chained to the ground at all times.
The elephant, who was bought to the UK from Sri Lanka in the 1950s, has now been moved to Longleat Safari Park in Wiltshire.
The charges have been brought under the Animal Welfare Act 2006.
The trial is listed for two days and is due to be held at Corby Magistrates' Court on 18 June and Kettering Magistrates' Court on 19 June.