Bury soldier James Wilkinson killed training in Kenya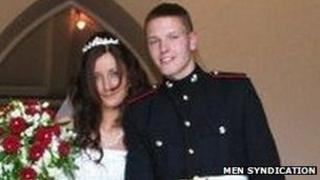 A soldier serving with the Royal Regiment of Fusiliers has been killed while on military training in Kenya, the Ministry of Defence has said.
Fusilier James Wilkinson, 21, from Bury, Greater Manchester, was a member of the 2nd Battalion.
The Royal Military Police said it was carrying out an investigation into his death on 26 November.
A spokesman said: "Our thoughts are with his family at this difficult and sad time."
'Shot in neck'
His wife Sarah, whom he married in July, is expecting their first child in February.
She said she was told her husband had been shot in the neck during a live firing exercise.
Mrs Wilkinson, who has a two-year-old son, Connor, said Fusilier Wilkinson brought her son up "as his own".
The battalion had been posted to Kenya in preparation for a tour of duty in Afghanistan next year.
Fusilier Wilkinson's father, Rob, from Whitefield, Bury, also served in the forces as an Army medic.
A family statement read: "Being in the Army was in James' blood. It was what he always wanted to do - to serve his country just as his father had before him.
"Anybody who knew James had the utmost respect for him. He was simply treasured by all who knew and loved him.
"His wife Sarah is taking hope from the part of James which will live on in their baby girl, who is due in February.
"Above that James' family and friends will always have of him never-ending and precious memories that will never be forgotten."
Lt Mike Glover, of the Fusiliers Museum in Bury, said: "He was a local lad and came through the Bury recruiting office some 12 months ago. He was a nice lad and this is a tragic loss.
'Full of life'
"The regiment is very much like a family and when one member of the family is killed in this sort of incident it really does affect everybody else."
A tribute from his regiment read: "James was one of those unique individuals, liked and admired by all; he was happy, enthusiastic and immensely popular across all ranks.
"Always smiling, he genuinely loved the Army and is warmly remembered by his friends.
"He had made a distinctly positive impression as a young man full of life and eager to do the right thing.
"An avid Manchester United supporter, he was a highly capable footballer with aspirations to play for the battalion football team."
The tribute added that he was a "devoted husband and it was obvious to all that he deeply loved his wife".
"James often spoke about his wife, their future daughter, his stepson and their future plans together."
Commanding officer, Lt Col Mike Butterwick, said: "Fusilier James Wilkinson was the epitome of a Fusilier. He was robust, fit and was dedicated to his profession.
"Even though he had only been with us for a relatively short time he had already made his mark on the battalion.
"His personality was infectious and his professionalism was absolute.
"Determined, keen and always ready to take the initiative, his performance on the exercise was simply outstanding.
"He was immensely popular and everyone who knew him knew how much he loved his young wife, Sarah, and her son, Connor.
"He was a wonderful role model for Connor.
"Our thoughts and prayers are with Sarah and his parents, Rob and Jan, at this tragic time."