Thames Water tells users to save water amid drought fears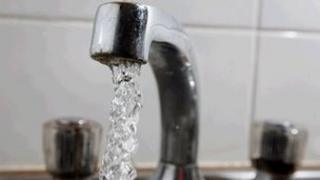 Thames Water customers have been told to conserve supplies after the firm was forced to use an underground reserve in London for the first time since 2006.
It comes after below-average rainfall for 15 of the past 19 months.
Thames Water supplies households in London, Berkshire, Buckinghamshire, Gloucestershire, Kent, Oxfordshire, Surrey and Wiltshire.
The region needs about 80% of its usual winter rainfall to avoid drought measures next year, the firm said.
Meanwhile, the Environment Agency warned parts of England may see a drought into next summer.
'Not muddy'
Environment Secretary Caroline Spelman says water companies need to prepare now for the "possibility" of a drought.
Richard Aylard, Thames Water director of external affairs, said: "It may come as a surprise to be talking about drought so close to Christmas, but if we don't get close to average rainfall this winter there is a very real possibility of a drought next year.
"This summer may have been mostly grey and dreary, but it has also been consistently dry.
"Simple things like only putting the washing machine on with a full load and turning off the tap when brushing your teeth can all help."
The firm has started using its North London Artificial Recharge Scheme which is currently boosting supplies by 80 million litres a day.
It has only been called upon four times since it first came into use in 1995.
'A worry'
If the weather remains dry in January the Beckton desalination plant may be turned on which can supply 150 million litres a day.
Farmer Michael Bowden, from Brimpton, Berkshire, said: "It is very obvious that water levels are low.
"We have still got animals out grazing in fields whereas normally they would be getting very muddy and making a mess.
"At the moment it is not a problem but it will be by the spring. It is a worry."