'I have a brilliant job' - Richard Westcott, Breakfast reporter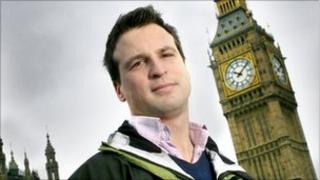 I'm writing this biography after about three hours' sleep, having been up since 4am. That's the downside of my job.
The upside is flying in fighter planes, being driven around Silverstone by Damon Hill, sailing on the Gipsy Moth IV, riding the Isle of Man TT course, driving the original James Bond Aston Martin from Goldfinger (there's a theme here), taking home a load of fruit and veg from Carol Klein's garden.
I know I am bound to say this, but I have a brilliant job. It throws up such a variety of stories and experiences. This year I've found myself filming down sewers, in caves, in the middle of riots and in a public toilet in Hull (twice).
Then there's the people. I often think I should write a book about some of the interesting people I've interviewed. The Royal Marine who lost three limbs in Afghanistan, the fighter pilot who is testing the new F35 (it's a plane), the woman who has looked after her disabled son, on her own, for 40 years, Sir David Attenborough.
'People like that stay with you'
It's not always the obvious people who are the most fascinating. I was filming in Rotherham recently, at a cooking course, and I got talking to a man called Bill who was 89 that day. He was so quiet at first, then he started telling me about being, at various times, a miner, a fisherman and a submariner (during the war).
He'd done every dangerous job going - I kept thinking I should write his stories down. He'd lost his wife recently and was learning to cook for the first time. He was such an elegant man, dignified - people like that stay with you.
I don't really know how I got here. I was head vinyl porter at Allders of Bromley for bit, then worked in a bank, then in advertising. Frankly, I wasn't very good at any of it.
Like everyone I know, my job eats up most of my time, but it's still a welcome relief from looking after two young children, which is the most stressful thing I've ever done. Maybe mine are just more badly behaved than everyone else's. I thought they'd idolise me. Not a chance.
My ultimate ambition, apart from world peace of course, is to learn to fly... my own P51 Mustang.