Osborne offers North East extra help but is it enough?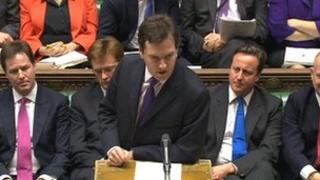 If the Chancellor didn't exactly offer the north a Plan B, his Autumn Statement was a clear indication that he recognises the region needs more help.
This was no mere tinkering with the spring budget.
Instead there were specific announcements tailored to boost the northern economy.
There was another £1bn for the Regional Growth Fund. The North East has already been a significant beneficiary of the first two rounds.
It is less than the £1.4bn set aside in the first two years, as it has to last until 2015. Nevertheless it's real money on offer to businesses.
Tax breaks
The Chancellor also offered a £250m compensation package to businesses affected by green taxes and his carbon floor price.
That could well help the steel and chemical industries in the region, but we'll have to see if it will make any difference to Alcan's plan to shut its aluminium smelter in Northumberland.
In addition, there were extra tax breaks announced for the region.
The North East's two enterprise zones will be able to offer capital allowances of 100% to encourage investment by new and existing businesses.
One of the zones covers parts of Northumberland, Tyneside, Wearside and County Durham, and the other is based in Teesside.
As Cumbria has no enterprise zones at the moment, it won't benefit.
George Osborne did say the same tax break might also be offered to the Port of Blyth though. That could help attempts to bring green jobs there.
In one of the lighter moments of his speech, he even looked directly at the area's MP Ronnie Campbell as he announced the aid for the North East. Even the Labour veteran had to smile.
Extra investment
But will any of that be enough to cheer up the region?
I confess the much-promised infrastructure announcement confused me.
There were two projects flagged up in advance for the North East.
One of them actually involves investment outside the region as it involves the electrification of the Leeds to Manchester Transpennine rail line.
There will though be some benefits as the government says the upgrade will cut journey times between Newcastle and Liverpool by 45 minutes.
That will be a relief to me if I ever have to travel to cover a party conference in Merseyside again (my Twitter followers will know that the Transpennine "Express" is not my favourite rail service).
It will also improve the relatively poor links between the northern regions, but it doesn't sound like a game changer.
The other announcement involved the Tyne and Wear Metro network.
But that is murkier. The promised £350m investment was first announced by Labour in 2008, and the coalition confirmed it would go ahead soon after coming into office.
The Chancellor says the investment will be brought forward, but how and to what extent is still not clear. Again, it doesn't sound as if it will make a huge difference.
Growth fund
A map of infrastructure projects released by the government as part of the statement also includes investment in Teesport's bio-freight terminal too, even though it wasn't mentioned in the statement.
But that just looks like confirmation of a regional growth fund grant that was awarded to the project in April.
On the basis of the map, the North West has done better than the North East, with nine projects highlighted. None of those are in Cumbria.
Yorkshire and Humber has 11 projects pinpointed including investment in park and ride in York.
There is no extra investment in roads in the North East and Cumbria.
There are of course other schemes that the region could benefit from, ranging from a loan guarantee scheme for businesses, to incentives for companies to take on young people.
Many - especially in rural areas - will also be relieved that there will be no rise in fuel duty in January.
All of that got a warm welcome from Stockton South Conservative MP James Wharton.
He said: "Today's announcement provides real opportunities for the Teesside economy with capital allowances for our Enterprise Zone, a new round of Regional Growth Fund investment and a national loan guarantee scheme fuelling business and creating the new jobs we need."
But Stockton North Labour MP Alex Cunningham had a different view tweeting: "The Tories are raising borrowing, and creating higher unemployment with next to no growth. And it is families and women who will suffer."
Pay review
There was one line in the speech though that has alarmed the trade unions in the North East.
The Chancellor has asked pay review bodies to "consider how public sector pay can be made more responsive to local labour markets". They'll report back in July.
That could mean scrapping national pay rates for public sector workers and negotiating them locally.
The unions fear that would almost certainly lead to public sector workers in the North East and Cumbria being paid less than their equivalents in the south.
Kevin Rowan, from the Northern TUC, said: "Collectively this will drain even more wages from the North East's economy.
"It'll make the region's families poorer which will then mean less to spend with local shops and businesses.
"Why should a nurse or a teacher or social worker in Tyneside be paid less than someone doing the same job in David Cameron's constituency in leafy Oxfordshire? It's a scandal."
I know some people think regional pay-bargaining could benefit the North East though as it would give the government a powerful incentive to move more public sector jobs out of London where salaries would be higher.
Nevertheless, the proposal is unlikely to do much to assuage the public sector workers planning to strike tomorrow, especially as they were also told their pay rises will be capped to 1% between 2013 and 2015.
They will though get a 5% benefit rise if they end up losing their jobs, as George Osborne confirmed he would raise most benefits by inflation.
Nothing in the statement is likely to see an immediate turn-around in the northern economy, as even the Chancellor accepts unemployment will continue to rise next year.
But he will be hoping that he has sown the seeds for the growth that he needs to deliver before the next election.