What Chancellor's Autumn Statement means for South East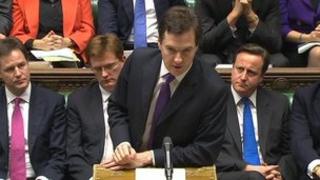 Many of the things I predicted yesterday would be in the Chancellor's Autumn Statement were confirmed by George Osborne today.
A planned 3p a litre rise in fuel duty in January has been cancelled and a further rise in August limited.
Train fare increases will be capped to RPI plus 1% instead of plus 3%.
There will also be help for 100,000 first time house buyers.
Bad timing?
There was also more bad news too - the latest economic figures from the independent Office for Budget Responsibility suggesting the UK's economy may only grow by 0.9% this year, rather than 1.7% as previously thought.
Against that backdrop the Chancellor announced public sector pay rises are to be capped at 1% for two years in his update on the state of the economy.
Bad timing ahead of tomorrow's planned public sector strikes over pension reforms.
Public sector employment is also forecast to fall by around 710,000 up to 2016 - up from forecasts of 400,000.
The biggest news for the South East was that the Chancellor said that work will start on a new crossing of the Lower Thames.
He also said: "And we will explore all the options for maintaining the UK's aviation hub status, with the exception of a third runway at Heathrow."
Officially, the government says there has been no change in its policy.
Aviation review
The Mayor of London's plans to build an airport in the Thames Estuary, dubbed 'Boris Island', have often been described as 'pie in the sky'.
And when asked about the plans by BBC South East the Prime Minister was emphatic that there were no plans to build a new airport in Kent, the Medway Towns or anywhere else.
But in recent weeks though the government's position seems to have shifted.
The new Transport Minister Justine Greening refused to rule out the possibility of building an airport in the Thames Estuary.
Speaking at a conference of airport operators Ms Greening said all the options for increasing airport capacity in the South East would have to be considered - including a new airport offshore between Kent and Essex.
Earlier this month ambitious new plans for an airport in the Thames Estuary had been unveiled by the world renowned architect Lord Foster.
He has welcomed today's comments from the Chancellor.
The Mayor of London Boris Johnson, who has backed a hub airport in the Thames Estuary, also welcomed what he sees as a shift in thinking from the government.
There will be no confirmation from the government until they finish their aviation review next year.
And with the cost of building a new hub airport estimated to be around £50bn, today may have taken the plans a step closer but there is still a long way to go before they could come to fruition.