Thames airport 'being considered' says MP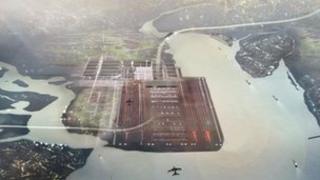 Plans for a new airport in the South East are being considered by the government, a Kent MP has confirmed.
Michael Fallon, deputy chairman of the Conservative Party and MP for Sevenoaks, said the government was "looking seriously at the proposals."
In his Autumn Statement, Chancellor George Osborne did not rule out a new hub airport in the Thames estuary.
The idea of an airport on the Isle of Grain in Kent is opposed by Medway Council and Friends of the Earth.
The proposed airport, which could handle 150 million passengers a year, was outlined by architect Lord Foster earlier in November.
'A major shift'
Addressing the Commons on Tuesday, Mr Osborne said: "We will explore all the options for maintaining the UK's aviation hub status, with the exception of a third runway at Heathrow."
Mark Norman, BBC South East's Business Correspondent, said Mr Fallon's comments appeared to be "a major shift".
He said: "This is now a conversation about do we need a major 24-hour a day, multi-runway hub airport in the South East."
In January 2010, Conservative leader David Cameron said building an airport in the Thames Estuary was not among his party's plans.
Mr Cameron said that if elected to government in the May general election it would not be the policy to construct the four-runway airport.
Speaking on Tuesday, the leader of Kent County Council, Paul Carter said: "It seems clear that the government's intent is to do a scoping exercise to find the most suitable location for a hub airport.
He said that there were "other and better options" than building a new airport on the Isle of Grain.
"What hasn't been talked about has been the opportunity to build a new airport on the Essex side of the estuary. All options should be looked at," he said.
Carbon free energy
The Thames Hub airport would have high-speed rail connections to London, the Midlands and northern England as well as continental Europe and links to key ports.
Lord Foster's scheme also includes a new Thames barrier for flood protection and generating carbon-free energy from the tide.
Medway Council has denounced the Isle of Grain as one of the worst places anyone could build a new airport.
Friends of the Earth has said building the airport would have a "devastating impact" on wildlife.