Memorial held for officer Heather Cooper in Guildford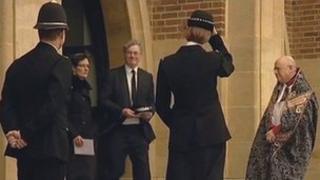 Hundreds of friends and colleagues have paid tribute to a Surrey police officer who was found dead in woodland in Sussex, at Guildford Cathedral.
The body of Det Con Heather Cooper, 33, was found in Blackdown Woods near Lurgashall, West Sussex, on 16 October.
At the end of the memorial service Ms Cooper's parents were given the hat from her police officer's uniform.
The Very Rev Victor Stock said "it was quite clear that she was enormously liked and loved."
He added: "You wouldn't be able to have the kind of tributes that have been paid to her if she'd just been a bit of a laugh.
"There was a lot more to her than that, she was a serious, sensible, methodical policewoman but she was also fun to be with."
'Complete sadness'
Two Surrey charities, Your Sanctuary in Woking, a domestic abuse charity, and Children's Outreach in Guildford, which helps children affected by abuse, will be the beneficiaries of any donations at the service.
Surrey Police said they were chosen by Ms Cooper's family and they were linked to her work as a police officer.
Deputy Chief Constable Craig Denholm, who read a tribute during the service, said: "There is complete sadness throughout the force in terms of what's happened, it was a real shock to the force.
"Coming today gives people the opportunity to actually show what they thought of Heather and for us to give a real clear display of just how much she meant to us all."
In tributes, Ms Cooper was described as highly praised in her work and yet completely dedicated to her two young children.
She was killed by a blow to the head and a stab wound to the throat.
Surrey Police said Ms Cooper, who was originally from York, had been on maternity leave at the time of her death.
Her former partner, Peter Foster, 35, of West Street, Haslemere, has been charged with her murder.
He is due in court for a plea hearing on 10 February.