Chancellor aims to help 'squeezed middle'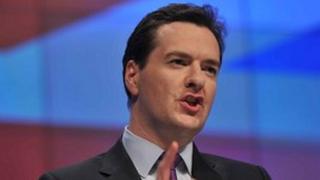 The Chancellor George Osborne will unveil his Autumn Statement to the Commons on Tuesday in what effectively is a "mini budget".
The Chancellor will deliver his statement to Parliament against a very gloomy backdrop of economic figures from the independent Office for Budget Responsibility and from the OECD which says the economy is about to slip back into recession.
So this budget - more than any other - has to be about getting the economy growing again.
Some of the information has already leaked out or been trailed by the government.
We're expecting fresh investment in schools, roads and rail projects. Once again, most of the funding will be targeted at areas seen as more in need than the South East.
The only infrastructure project in the region announced so far is additional government funding to allow use of the hard shoulder to increase capacity on the M3 (between J2-3) in Surrey.
Relief measures
But there may still be some relief for hard pressed families, with the Chancellor expected to offer some help for the so-called "squeezed middle".
It's thought the planned three pence a litre increase in fuel duty - due to be introduced in the New Year - will either be reduced or postponed.
That would be a welcome relief to hauliers and especially drivers in rural areas who are reliant on their cars.
In addition, rail fares will be "capped" at 1% above inflation next year.
It means the fare increases of up to 3% above inflation that had been planned for the national network and the London Underground will now be revised.
That will be some small comfort for commuters in the South East who currently pay the highest train fares in the country.
The Association of Train Operating Companies said the decision to limit rail fare rises was a 'positive move' for passengers.
But rail users still face a steep 6.2% rise because inflation was running at 5.2% in August when the level was set.
The government has already announced a £1bn fund to help the young unemployed, extra help to get banks lending to small and medium sized businesses, and mortgage help for people buying new homes.
The key question is will it be enough to get the economy - both here in the South East, often referred to as the engine of the economy, and elsewhere - moving again?