White communities are 'forgotten', new study says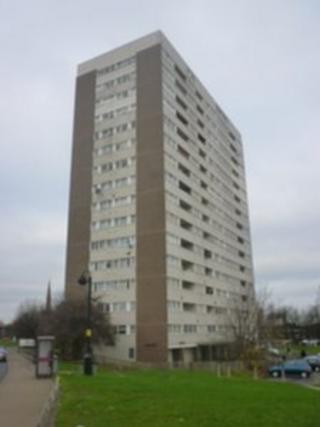 People from white working class areas feel they are a "forgotten" community according to a new report.
The report found white people living in those communities felt unfairly treated and "last in line".
Community cohesion: the views of white working-class communities was published by the Joseph Rowntree Foundation.
Interviews were conducted with about 100 people in three areas: Aston, in Birmingham, Canley, in Coventry, and Somers Town, in London.
The research found people felt they were not listened to by local or national government, that debate was stifled and policy makers had failed them.
Empty streets
But it also found most people rejected extremist solutions such as joining far right political parties and said they wanted to build better community relations.
That view was echoed by residents in Aston on Monday.
The streets around the train station were empty with shop shutters down on a number of premises.
Tower blocks dominated the skyline as the few people who were out dashed into shops and out into cars as they collected newspapers.
Out walking his dog was Michael Cawthrow, a Yorkshire man who has lived in Osborne Tower, in Aston, for 12 years.
As we chat he says hello to other residents as they come and go from the tower.
"Housing is rubbish here. They haven't done any repairs for five years," he claimed.
Mr Cawthrow said the tower block was so cold he got pneumonia last Christmas.
"If you come from somewhere else you get a fully refurbished flat, you get everything, a washing machine, a fridge."
He said other areas of the city seemed more vibrant.
"In Lozells everything is new or done up, there are businesses and people out walking around.
"When I came here there was a butchers, a bookmakers, but all that's gone now and there's no investment."
'Not represented'
Jean Perkins was born in Aston and moved back to the area seven years ago.
She said: "It's (Aston) changed, in some aspects its changed because we're not represented.
"We seem to be the minority but that's not a bad thing, people have got a lot to add.
"I can understand people do feel we don't have a say. Our traditions and culture are being systematically destroyed across the country and, because of political correctness, if we say something we become racist."
She said the closure of pubs, clubs and youth centres had added to the feeling of a loss of culture.
Aston was chosen for the study because white people are a minority group there.
The report said the three areas were different in their make-up, but all featured people who felt they were being treated unfairly and did not have a voice.
'Strong work ethic'
The report stated: "Residents viewed themselves as the forgotten group. Government had not listened to them in the past, nor was it showing any sign of doing so currently."
Report author Harris Beider said: "The way that people from working class white backgrounds are portrayed is often negative, which doesn't reflect the reality of the pride most hold in their community, nor their strong work ethic, and collective values.
"It is important to confound the negative stereotypes and understand that people in these communities feel their voices are not listened to, and that they have no stake in their community. They want to be valued, heard and connected to government."
That stereotype is familiar to Dave McGann and Simon Clinton, who work in Thurston's snooker supply shop in Lichfield Road.
Mr Clinton, who is from Great Barr, said: "It's not a very nice area. There are a lot of drunks."
Mr McGann, who is from Solihull, agreed but added not all white people who lived there were the same.
He said: "If there are any white people about people say they're alcoholics but they're not.
"You don't see anyone in the day as they keep themselves to themselves. It's different at night, there are more people milling about."
But that view was not shared by Ku Devi Choudery who runs the newsagents and off licence a few doors down.
Mrs Choudery has run the shop, which she lives above, for 27 years.
She said: "Everyone talks to each other and it's friendly.
"Some people in the community look at people's differences and say that (white people are treated unfairly) but that's if they don't mix.
"I'd say 15% of people are like that but most people make the effort."