'Virtual court' scheme backed by Ministry of Justice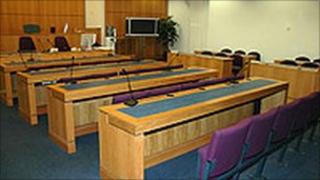 A court video link system allowing defendants to be tried hours after arrest has been backed by ministers.
The "virtual" system would also allow witnesses to give evidence from a police station.
After seeing the system in action in Kent, justice minister Nick Herbert said it would "ensure crimes are dealt with more quickly and effectively".
The Howard League for Penal Reform backed the idea, but said it should not be used "simply to save time".
"This is important not only for the police but for victims and witnesses," said Mr Herbert.
The "Live Links" pilot project of virtual courts was launched in Medway and Camberwell Green in London in May 2009, and so far more than 1,400 people have appeared in Kent courts via virtual justice.
It is hoped the entire court system will go digital by next spring, with secure electronic transfer of files between relevant parties becoming standard practice.
Fellow justice minister Jonathan Djanogly also saw the scheme in operation in Kent, and added: "Not only do they enable the quick resolution of cases they also save time as defendants do not need to be transferred between prison and the court."
Andrew Neilson, from the Howard League, said: "We welcome attempts to make the justice system more immediate and new technology has its part to play in speeding up the sentencing process and saving on police and court time.
"It is important, however, that the government keeps a close eye on concerns around the cost of the technology involved and the impact of the virtual process on sentencing.
"In particular, vulnerable defendants should not face inappropriate pressure to plead guilty across a video link simply to save court time."